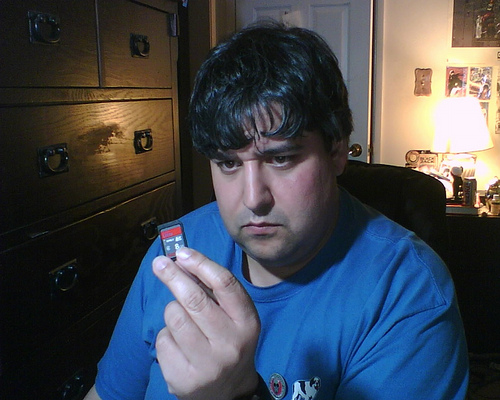 (This one may go off on a tangent. You've been warned. ^_^;)
Last picture of the night? I just got home from the City about 40 minutes ago (0100 PST), and will be taking off towards Sacramento in about 9 hours or so? (Was in SF for a gathering that I ended up missing out of, but I found some damn good finds at various shops in the Haight/Asbury area. More on those later on.)
Had some issues with my multi-memory card reader being tempramental with this 8GB SD-HC card, which I bought in late November with the "big gun", my Canon Rebel XS DSLR.
The computer was saying the card was write protected, even though the switch was set in the proper position. (Go figure, images would delete via the camera.)
About 10 minutes ago, I took a can of compressed dusting gas (Always handy to have around the house!) and let a few well-placed blasts go at the card slots. The problem seems solved for now. I'm probably going to have to open the case again for one of the several-times-per-year dust bunny clear outs and motherboard capacitator visual inspections.
(Hey, I invested a lot of money in this all-round "Jack of all trades" tower system, and I like to protect my investments. Besides, my inner geek will not be denied.)
And, why am I not in costume most of the time? Well, not much inspiration most of the time, and I'm still fighting burnout after some commissions from Hell the last year or two.
I still have ideas, but does it matter whether or not there's an occasion to get dressed up? I will admit I have a strong attatchment to Black Jack.
Maybe I'll feel better once time moves on, and things change somewhat in my personal/work/friendship life. I know I'll hopefully have a better outlook once I get refocused on losing weight. (Looking at about dropping 120 pounds or so when all is said and done. I'm doing it primarily for health reasons, but if I look better in costumes and outfits I wear, then it's an added bonus!)
I don't believe in politics of any kind, I just want to do what I feel comfortable with.
I am in a state of evolution. I do have my heroes. As always, "With My Own Hands, I'll Make My Destiny!"
Posted by raider3_anime on 2010-03-07 09:50:34
Tagged: , rant , blog , geek , tech , rambling , thought , costumes , judgement? , thinking out loud