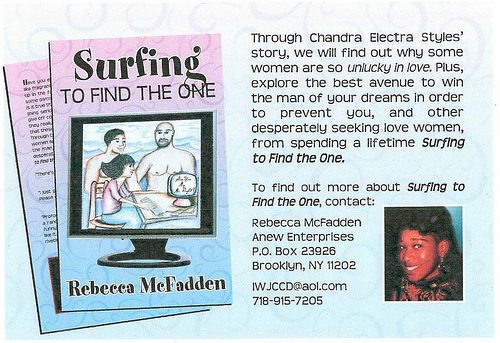 With a dangerous killer running amok, this snarlingly suspenseful computer love novel will have you tossing and turning in the midnight hour from juicy anticipation wondering whodunit? There are double entendres and brazen duplicities of all sorts constantly being played out in slow lotion motion before reaching an abrupt cascading descent.
All hyped up is what you will be because there is something in it for everyone. To all the sport fans, it touches on that pivotal basketball moment when no one knows what the chilling outcome will be, while two top guns battle it out to the nerve-racking finish. It rocks your world with issues pertaining to: jealousy and envy, best friends rivalry, harboring suspicion, are you my Mr. Right, recalcitrant behavior, self-aggrandizement, a woman scorned, Tough love, borderline forgiveness, interracial dating, and the juicy juice goes on and on and on… Be very, very careful, before they put a squirt on you!
To the resourcefully frugal individual, it is the most economically sound investment you will ever make in your life. It took me several years to write this book, because I felt my readers deserve nothing less than my absolute best. In fact, it was Patrick Ewing's Ex-wife, Rita Ewing, who told me to read Toni Morrison's book "Song of Solomon." Rita said, "The market is flooded with garbage, and Toni Morrison's flowery adjectives will make you a much better writer." I gladly took Rita's suggestion and bounced like a basketball with it, until I finally formulated a way to slam dunk it!. And now the rest is history. Enjoy.
Excerpts:
Page 118:
"He will try his best to get rid of you, so he can break my heart by killing my spirits mentally and emotionally. You see my dear, that's how a sick psychopath criminal mind works. I urge you to drop everything at work and in your personal life. You must pack your bags at once and leave town running! Don't look back because it might slow you down."
Page 119:
"Trevor, are you crazy? I will do no such thing! I will not allow Darnell to force me out of my beloved home like a run-away slave; nor will he make me a forehead dripping, dropping sweaty prisoner in it. I will dust off my Colt 1851 Navy black and brown single action revolver, and prepare myself for war. I will fight him barefoot and broken toe until I am black and blue. So to Darnell I say, Welcome to Chandra's town, where the women don't lay low; but instead they throw down."
Page 120:
"I heard everything you said, and it does sound very impressive; but it is still loquacious nonsense! Don't be silly, Chandra. You can not risk your life, career, family, and our happiness to fight evil with evil; nor, can you afford to fight against the devil and expect to win. It does not serve a man or woman any good to sacrifice their lives in the name of pride and stupidity. You will leave that unsafe environment and seek shelter, even if I have to come there and physically remove you myself."
Posted by rebeccamcfadden09 on 2009-11-27 04:52:47
Tagged: , Oprah , Approved…