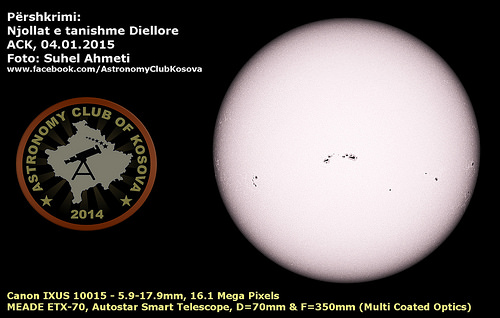 E Diele, 04 Janar 2015:
Njollat e Diellit formohen ne siperfaqjen e Diellit te quajtur Photosphere dhe shfaqen dukshem si njolla te erreta ne krahasim me ambientin e tyre. Nje njolle diellore e madhe mund te kete nje temperature prej 3700°C. Nese ne do te marrim nje njolle te Diellit dhe te vendosnim ne qiellin tone te nates do te ishte aq e ndritshme sa nje Hene e plote. Njollat Diellore mund te jene shume te medha, deri ne 50.000 kilometra ne diameter pra nje njolle e madhe mund te jete sa krejt planeti Toke. Ato shkaktohen nga nderveprimet me fushen magnetike te Diellit qe ende nuk jane te kuptuara plotesisht perse ato formohen.
(ENG)
Sunday, January 4 2015:
Sunspots form on the surface of the Sun and appear visibly as dark spots compared to their surrounding. Sunspots can be very large, up to 50,000 kilometers in diameter. They are caused by interactions with the Sun's magnetic field which are not fully understood. A big sunspot can have a temperature of 3700°C. If we would take a sunspot out of the sun and place it into our night sky it would be as bright as a full moon.
MEADE ETX-70 Autostar Smart Telescope, D=70mm & F=350mm (Multi Coated Optics), Computer Control.
www.facebook.com/AstronomyClubKosova
Posted by Suhel Ahmeti on 2015-01-15 12:38:55
Tagged: , Astronomy , Club , Kosova , Comet , LoveJoy , The , Milky , Way , Rruga , e , Qumeshtit , Hena , Moon , Waxing , Crescent , Gibbous , Suns , Spots , Njollat , Diellit , NASA , JPL , Telescope , MEADE , Stars , Dust , Logo , Stema , Universe , Jupiter , Craters , Canon , 350D , Prishtina , Germia , National , Park , www.facebook.com/AstronomyClubKosova , Luna , Satellite , Solar , System , Astrophotography , Night , Sky , Observing , Vrojtimi , Celestial , Bodies , Showcase , Source , Energy , Suhel , Ahmeti , Photography , ACK , Autostar , Smart , ETX-70