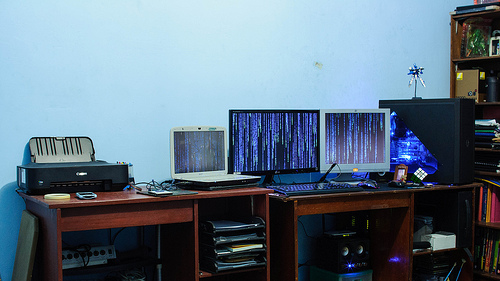 Surviving December 21, 2012, it is high time I took a photo of my much asked about desktop workstation.
Been a long time coming, but here it is, my main desktop workstation and my trusty old laptop. I completed, for the most part, my system build last August 2012; I could have finished it sooner but there were technical problems that I nor my good PC buddies could figure out (I eventually figured it out myself LOL).
I have yet added a videocard since my wallet has gotten thin since the pseudo-completion of the build. But hey! It's the holidays… cha-ching, cha-ching. LOL
A normal shot with the lights on.
Just hover over the photo for the exact names of the peripherals, etc.
For the overall specs:
CPU: i7 3770
Motherboard: Asrock Z77 Extreme 4
RAM: 2x4GB G.Skill Sniper 1600mhz
PSU: Corsair Gaming Series 700watt non-modular
HHD/SSD: Seagate 500GB SATA Mechanical Drive
Chassis: Bitfenix Shinobi Window Edition
Cooling: Deep Cool Ice Blade Pro on Push/Pull, 2x120mm Bitfenix Spectre front intakes, and 3x120mm Deep Cool exhausts with LED (Blue)
Monitor: 23" LG IPS234V and 17" HP f1703
Keyboard: A4Tech KD-800L (Cheapo keybaord but has LEDs LOL)
Mouse: E-blue Cobra (Got this for free… I don't even recognize the brand LOL)
So yes, I was an avid PC gamer back in the day, and I was a PC freak of geeky nature waaaay before I began photography. So I am more confident of my PC skills than my photography skills LOL
Well, just visit my blog site to read my evolution of being a PC freak of geeky nature.
Shooting Information:
Nikon D5000
Sigma 30mm f/1.4
Manual
1/2 second @ f/8
ISO 1000
Flash Not Fired
Post Processing Information:
Adobe Lightroom 4
Not Cropped
-+o+-
Add me here in Flickr and any of these other sites:
You got Facebook? Add me up HERE
You got Blogger? Follow me and I'll follow you HERE
You got Multply? Blog with me HERE
You got Twitter? Follow me and I'll follow you: @ChanUdarbe
You got Google+? Add me to your Circle and I'll add you back HERE
Chatting at Yahoo! Messenger? Then add me up! red_fender89
Join the Cazillions at Cazillo.com; Click HERE
Computer Geek? Join us… or else… at TekSyndicate.com! Click HERE
Posted by Bright Ideas with Chan Udarbe on 2012-12-22 13:18:27
Tagged: , 30mm , 3770 , 4920g , a4tech , acer , adobe , asrock , bitfenix , blue , cable modem , configuration , corsaur , d5000 , deepcool , desktop , dual bass , e-blue , extreme 4 , f/1.4 , f1703 , g.skill , gs700 , hp , i7 , iceblade fan , iceblade pro , intel , ips , ips234 , ivy bridge , kd-800l , laptop , lg , lightroom , motorola , mouse bungie , nikon , nzxt , ozaki , photoshop , pull , push , razer , roccat , router , sb5101u , seagtae , sigma , taito , tl-wr340g , tp link , workstation , z77