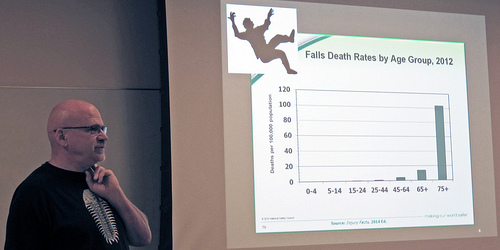 In order to gain access to most quarries to examine rocks, minerals, and fossils, geologists and collectors need to have "MSHA certification". This refers to the Mine Safety and Health Administration, which is part of the American federal government. Certification for collectors involves a half-day safety training session. The certification lasts one year, after which a new training session must be taken.
I've been to 3 MSHA training sessions. This is the instructor of the training session, Scott Kell of the Ohio Department of Natural Resources, Division of Oil and Gas (oilandgas.ohiodnr.gov).
I have 12.5 pages of typed-up notes from these sessions.
————————————
Collecting Safety
Hazard Training
2018
How dangerous are mines and quarries? Be aware and they're fine, safety-wise.
Common injuries – minor cuts, bruises, sprained ankles. These are things that will happen during a home improvement project.
Misery index – injury inventory
While collecting at a mine or quarry, have you had:
– mashed thumb
– cut requiring a band air
– abrasion requiring first aid
– bruise from a slip or fall
– sprained ankle
– laceration requiring stitches
– heat exhaustion
– heat stroke
– broken bone
– dislocation
– removal by ambulance
– known a fellow-collector who died while collecting in a quarry/mine
Risk of serious injury is relatively minor.
This is not training for subsurface mines.
Emphasizing mines and quarries – not roadcuts or stream cuts, etc.
Safety training is a once-a-year thing, but it's a mindset – a value.
We all make mistakes, but never intentionally break a host's rule (e.g., stay 40 feet away from a highwall).
Our hosts – who are they? It's usually quarries in Ohio, Indiana, Michigan. If granted permission to collect, host are usually owners of mines/quarries. 77 out of 88 Ohio counties have mines and quarries.
Ohio quarries/mines hire ~3500 people and it's a 1 billion dollars a year industry.
Limestone or dolostone mines – produce materials that make roads, patios, houses, shoreline erosion control, industrial fluxes, filler products, water purification materials, medicine, cosmetics, etc. This kind of industry improves our standard of living – they command our respect, whether we get permission to collect or not. An under-recognized industry.
Coal miners have always been required to go through extensive training.
Industrial quarries have been exempt from training, until 2000.
Miner training includes driving large trucks, storing acetylene tanks – things that don't apply to mineral collectors or geologists.
Does training make a difference? Yes it does. Does it make all the difference needed? No.
Quarry foremen get lots of calls from collectors. They're tempted to not offer collecting at all. They prefer only those groups proven to collect safely. Some rock & mineral clubs have poor reputations.
Training helps keep doors open – maybe reopen now-closed doors.
Miner fatalities require investigations, identification of causes, etc. Nearly all fatalities and serious injuries were avoidable if they honored what was learned during training. Most injuries & deaths are new people or so-experienced people that they get blasé.
Only get one chance to make a first impression.
Need to have groups of people that do things right.
Be punctual. Be 15 to 30 minutes early before scheduled sign-in time. Keep in mind construction delays. Be punctual regardless. Have all needed protective equipment.
Be punctual, prepared, attentive, respectful, appreciative, serious. Act like this is a job interview. Try to impress the hosts.
Hosts are usually giving up a weekend day – unpaid. They don't know you – they haven't trained you, etc. They're trusting that you are worthy of their good faith – that you will be responsible. Present yourselves well.
As long as we provide tangible benefits to the company, in terms of public outreach, we will be valued and provided access occasionally.
Recognize personal limitations – make an honest, annual self assessment. Limitation components: cardiorespiratory, morphologic, strength, balance. Time changes us – age matters. Not everyone belongs on a blast pile. No everyone can use specific tools.
Falling in a mine is a common experience.
75+ year old people in society have a greatly increased fall rate.
Example: at a quarry in Genoa, walking from atop a large boulder down to a lower boulder – ended up falling. The cause – stepped on a shoelace – boots had gotten untied.
Everyone will stumble.
Miners and collectors are not exposed to the exact same risks.
Ex: employee in a bucket, extracting loose rocks from a highwall; a rock fell on him – got killed.
Historically, mining has had the highest serious injury rate in any major industry group – things that would cause lost time for a particular miner.
Most sites have prominent signs with number of hours since the last lost-time injury.
With required federal training, fatalities have dropped.
Fatality trends have been declining noticeably since the mid-2000s.
684 surface mine & underground miners have been killed. 627 were surface mine fatalities.
44 miners died annually, on average, before training started.
17.5 died annually more recently, since training started.
Big equipment ("powered haulage") is the # 1 way miners die. We don't operate in those. Shouldn't collect anywhere near them, or where they're operating. High wall incidents are the # 2 way miners die. Slips/falls are the # 3 way to die for miners.
Miners do things collectors don't do.
Fatality causes – powered haulage is # 1 cause; highwalls are # 2 cause; third is slips and falls.
While collecting, one usually isn't around operating equipment. It's not safe to be working around operating big equipment.
Operators have to provide on-site, site-specific hazard training for people going in – including those excluded from the definition of "miner". We are "visitors".
Genoa quarry – usually have a 10-15 minute overview of safety training on site.
Don't do phone calls during this sort of thing. Never do that.
On-site training is more detailed – it includes site-specific info. – information relating to the unique conditions at any particular mine/quarry.
Training objectives – identify & discuss hazards associated with collecting & hazards associated with just being in the quarry. Learn the terminology of the mine.
Ex: "Don't collect in the trough." What's a trough? Know what the restrictions mean.
Want to earn the trust & respect of the host.
Some rock & mineral clubs are not trained and don't follow rules.
"Close calls". We've all seen them. Think through any you saw or experienced.
Close call analysis is now an important part of mine safety training.
They want to hear about miners talk about close calls – focusing on prevention by doing close call training.
Unique risks as collectors, versus miners? Yes.
Miners don't drive personal vehicles into quarries – don't park in quarries. They are arely on foot where equipment is operating. They usually don't walk around on blast piles. They typically don't pick up rocks or use hand tools (chisels, pry bars, saws, etc.). There's a different set of risks that we expose ourselves to, as collectors.
—————————
Training Topical Overview
Before you enter – prepare personal protective equipment ("PPE"). Know driving safety.
Ground control – be safe around highwalls and benches; be safe while maneuvering on a blast pile. Some quarries don't allow walking on blast piles.
Other topics – water hazards, tool safety, . . .
Before you enter – always have express permission to enter, from the superintendent or foreman or designated representative. Other employees (like the security guard or the scale house person) can't allow permission. The former folks know the condition of the mine as of the end of the last shift. That responsibility isn't part of any other employee's job. The foremen and superintendents have to know that. They have to be aware of the latest condition of the mine. It is not the law that the foreman/superintendent accompany us the entire time, although they may do that anyway.
Know what time we need to leave & whether it's as a group or individually. You may have to wait in your vehicle until the time when the entire group leaves together.
Sign in at the office. Sign all paperwork. Don't want to do paperwork? Then spend your Saturdays doing something else.
Ask questions if clarification is needed. Sometimes, instructions are ambiguous. Some speak in generalities. Some are very specific.
Sometimes on-site training is two parts. One at the office area. One on the quarry floor.
They often speak in generalities. "Don't go near highwalls." "Don't go near haul roads." Well, how close is "near"? Ask for specifics. Can be admonished for even being 30 feet away. Don't argue – it's their mine. Do what they ask.
Listen attentively to site-specific training.
Know what specific areas are permitted & which areas are prohibited.
Note recommended driving pattern – drive in right lane or left lane?
Note about proximity rules for conveyors and other equipment.
Restrictions on specific tools, like cutoff saws or drills? They expect us to go in with the basics – hammers and chisels. Ask about other types of tools.
Will there be blast during the day?
When do they want collectors out of the mine? Sometimes, they want everyone to enter together AND leave together. If need be, when done, sit in car and wait.
Some quarries allow walking atop blast piles – some don't. Marblehead Quarry wants one foot always on quarry floor. Why's that? It's not necessarily unsafe. But it's what the host is comfortable with. Honor that.
There's a difference between compliance and true safety. But we have agreed to be compliant in order to enter.
If you arrive late – site-specific training is done, foreman has led everyone into the quarry. You just drive in & join them? No. Have to have site-specific hazard awareness training first. Don't be late.
Clubs that enter quarries need an emergency plan – have phone number of operator.
Have first-aid kits. Keep an eye on fellow collectors that have medical conditions.
Peronal protective equipment (PPE) for: head, eyes, feet, shins, knees, hands, hearing, respiratory, back.
Some quarry hosts require certain types of protective equipment.
Abide by any conditions.
Quarries have to provide these to miners. Collectors are expected to provide their own.
Well-prepared collectors: durable, full-length pants (no shorts – one's legs can get shrededd/cut), safety glasses, hardhat, steel-toed boots, reflective vests (commonly required nowadays; in Canada, they need an "X" on the back), belted equipment, shin guards, knee guards, gloves (advisable at some sites), weather-appropriate clothes.
Hardhats are not legally required where collectors are generally allowed. If there is no real risk of something falling on your head – not legally required. However, standard practice is to always have the hardhat on – could be walking in & out of areas where a real risk of falling objects is present.
Suitable hardhats – certified by ANSI Z89.1, with the bill-forward, or with bills all around. This info. is on a sticker within hardhat. A rare restriction is having nearly-new hardhats (less than 5 years old, for example – a Kentucky quarry demanded that). Hosts are free to require any standard above & beyond federal standards.
MSHA and OSHA do not set expiration standards for hardhats.
Hardhats should be replaced if dented or cracked – if the plastic is chalky or soft – if the suspension doesn't work – that's a common sign – it loosens and hardhat keeps falling off.
Eye protection – have eyeglasses with sideshields or goggles. Every once in a while, a collector while strike some sample that explodes.
Geodes sometimes explode. Story about how quartz crystals got embedded in a collector's chest after one exploded on him. About 3 years later, a doctor found quartz crystals still in him on an X-ray. What if that had been the eyes? Probably would have lost your eyesight.
Start cracking geodes with mild taps. Whack harder from there.
Never crack a geode without eye protection.
Steel-toed boots, preferrably with ankle support. Or kevlar-toed boots.
Metatarsal protection – shield that cover the dorsal mid-foot – in case a boulder rolls over your foot – your toes are protected, but your metatarsals will suffer otherwise.
Heavy-duty gloves aren't always mandatory. They're recommended with sharp, siliceous rocks or any other site, really. Not really a concern with Ohio sites. Butcher gloves are cut-resistant.
Recommend belting your supplies.
Knee/shin guards recommended.
If you have lots of accessories, have a carrier on a belt. Fluorescent tape, quick-setting glue, handkerchief for cleaning glasses. Don't want your hands tied up. Get belted carriers at Home Depot-type stores.
Driving in quarries – follow the signs. Assume you will be entering & exiting via a steep ramp – your vehicle needs to be able to handle that (no bad clutch vehicles). Conditions change from year to year. Unique road signage and driving conditions at each quarry – similar to what's on the open road, but also some unusual signs. Don't assume the same quarry is the same from year to year.
Example miner fatality – a truck drove into the back of a parked, 300 ton truck, at an estimated 50 mph. It's never reasonable to be driving at 25 mph, let alone 50 mph.
Travel on grades – use gearing and brakes to control speed. Gear down prior to grade.
On quarry floor – most are nearly horizontal & nearly flat. Law requires tires chocked and turned. Use a rock from site. This is not a safety issue on flat quarry floors – a car in neutral on a flat quarry floor will not move. Federal inspectors interpret the law such that turned & chocked tires are necessary even on flat floors. It's easy to forget this. Not a true safety standard. Most places are satisfied with chocking one wheel. Put a rock in front of & behind your tires – that should be fine.
There's a big difference between compliance and genuine safety. There is absolutely nothing unsafe about not chocking tires on flat floors. Remember this if you move from one parking site in the quarry to another one. Chock again. Not truly a safety risk. Definitely do this on a ramp or incline, however.
Only use haul roads authorized by foreman. Know traffic patterns. Yield to moving equipment.
—————————
Think of ways to give back to your hosts.
LaFarge has a public outreach day. Some have donated fossils to this company for their public outreach activities.
Lafarge has a large mine – the Marblehead Quarry – a substantial operation.
The Ohio governor once visited the Lafarge quarry at Marblehead (largest quarry in Ohio) and witnessed a blast – the quarry people appreciated that.
Offer them a "Minerals of Ohio" book or something.
Superintendents & other staff volunteer their time on weekends when they meet & lead groups into quarries for collecting.
—————————
Ground Control – highwall and bench safety.
Ground control is a political term for the condition of the mine, the highwall, the floor, all parts of the mining environment.
Assess hazards from below and above.
Terminology – highwall, trough, blast pile, bench, floor
Highwall is the face created by blasting. Will have one or more highwalls.
Some quarries have a series of benches.
Blast piles may slope from wall to floor. Some have a crest, with a trough (low area) closer to the wall.
"Surface industrial mineral mine".
Never trust a highwall. Never turn your back to a highwall.
1995-2016 – highwall failures were the # 2 cause of all miner deaths.
Highwall can collapse or can have rocks falling.
Geologists like to collect in-situ samples from specific horizons.
We are not company geologists – we are not authorized to collect samples from highwalls. They can authorize their own geologists – we visitors cannot do that, unless specifically allowed (unlikely, though).
Example: a company geologist fatality – a small rock (a pound or two) fell from upper highwall. Hardhat didn't save his life.
Catastrophic failures of highwalls can cause deaths.
This is not common. If you're there when it happens, it won't bode well..
Risk factors – rock composition, discontinuities within the rock, highwall geometry, weather (highwalls can be riskier than normal under certain weather conditions).
Rock is solid. But rock in highwalls may have discontinuities along which failure can occur. Highwalls can collapse without a sound – no warning.
Highwalls are composed of rock that is anything but solid.
Rock has discontinuities – it is rarely solid.
Bedding planes – a common type of discontinuity here in Ohio. Bedding planes are depositional surfaces are where environments changed over the course of time. In Ohio, they're usually horizontal.
Can also have joints or fracture planes – usually perpendicular patterns – formed from ancient tectonic events with stresses. Get uniform, consistently-directed fractures in the rock. They're not there due to quarrying – have been there for a long time. They form trends and often occur at regular angles.
Faults – not many in Ohio quarries. But they are possible.
A few quarries in northwestern Ohio have faults. Some in Michigan. Elsewhere, be aware of faults.
Fractures – basic, generic term for discontinuities (breaks in rock) formed by blasting, pressure release, subsequent weathering from freeze-thaw cycles. Over time, highwalls becoming increasingly fractured and increasingly dangerous.
Constantly reassess the situation while you're in a quarry or mine.
What conditions (geologic or otherwise) create hazardous highwall conditions?
Highly fractured rocks.
Wall-parallel joints.
Thin-bedded limestone versus massive-bedded dolostone (like Lockport Dolomite). Massive-bedded walls are less dangerous than walls of thin-bedded rocks. The latter are like a stack of bricks.
Overhangs – created where a more stable caprock is underlain by weak, soft, more fissile material, like shale – it weathers away more easily. Caprocks are a serious safety risk.
Once, a fossil collector in a quarry that had Silica Shale went under an overhang – purposefully – for the shade. After moving on, it collapsed 15 to 20 feet. He would have been a grease smear if still hanging out there. Can never tell when something will collapse. The presence of drops – material at the base of a highwall indicates wall is not stable. What makes you think it won't drop when you're there? Thawing highwalls will make spitting sounds – warning sign that the highwall is not stable.
Fracturing is often a function of the bedding nature (Ex: thin-bedded limestone versus massive dolostone).
South Rockwood – high-angle joints and faults are present in quarry face.
Most Midwestern quarries have horizontal bedding.
Some do have dipping beds – reef flank deposits. Ex: Swayze, Indiana – also had Pleistocene mammal bones in a karst void. Can't do collecting there anymore.
Elsewhere, can have steeply angled bedding or foliation.
Look for unstable dipping beds.
Experienced collectors often take greater risks – they've gotten away with more and think they'll be OK. Avoid overhangs.
Some sites – with limestones, in particular, but also dolomite – can partly dissolve away from slightly acidic rainwater and groundwater. Can get clay-filled joints in limestone or dolostone that were enlarged by dissolution (rainfall is slightly acidic – carbonic acid) and filled with material. Rocks in front of such features aren't really attached to highwall behind – the highwall is a façade at such areas – not stable features. Solution-expanded joints in limestone & dolostone rocks. Over time, joints expand and pieces detach/collapse because they're no longer supported by the matrix.
Quarries may place barricades of rock next to high-risk sections of highwalls.
Destabilizing fractures often occur at intersections of highwalls of different orientations – "corners" – two highwalls intersect. Compression release coming from both faces result in highly fractured corners.
Some collectors have been observed adjacent to unstable corners – that's very unsafe and defiant of quarry rules. Respectfully remind people that they may be in unsafe areas. Or are parked in an unsafe area. Don't need to yell or humiliate, however. Unless it's over pure defiance.
Most joints are vertical. Some joints & many faults are steeply angled.
Wall-parallel joint surfaces are relatively smooth and iron oxide-stained (brownish-colored).
Back-break – refers to fractures that extend downward from the bench behind the face of the highwall. Often can't discern how poorly attached segments of highwall are to more stable rock behind them. Easily recognized from above – from a bench. Not so easily observed from the quarry floor. Don't ever trust a highwall. Don't necessarily know where back-break fractures are. Usually don't get a chance to view highwalls from all vantage points.
Example miner death – from highwall collapse along a back-break – a wall-parallel fracture.
Highwalls can be bedrock with unconsolidated glacial deposits above. Ex: boulder-rich glacial till atop limestone. Don't just look at rockface. Look at what overlies it. Boulders frequently erode down. Evaluate unstable overburden.
Highwall geometry – height and slope of highwall; presence or absence of benches. Rocks falling along a vertical face will drop vertically. Steep, non-vertical walls will have rocks bouncing or rolling downslope. Falling if the wall is vertical. Bouncing if the highwall slope is 60 degrees. Rolling if the highwall slope is 45 degrees.
Benching is used to prevent highwall failures & to capture detaching/collapsing material. Rather than have one big 300' tall highwall, have a series of benches – rocks get caught on bench surfaces. As benches age, they can get cluttered & covered with material over time. Newer falling material may bounce down along lower walls. Loaded benches – falling rocks will bounce and fly downward. Loaded benches no longer provide an impediment to falling material.
Don't collect piles below large loaded benches. Don't collect piles close to highwalls.
Observe loaded benches for frequency of falls/slides. Don't risk.
Unstable "shot-rock" occurs on loaded benches.
Loaded benches result in "ski jumps".
Material can cascade over a series of narrow benches.
Things do come flying laterally after falling down slopes. Miner deaths have occurred in trucks from rocks flying sideways, far away from highwalls.
You may want to be 150 feet away from a highwall. The default standard is be 40 feet away from a highwall.
Mines are starting to use computer models to simulate how materials might wall along benches they're considering building.
Don't need a computer. Intuitively, can reasonably assess risks & nature of falling rocks.
Highwall vugs are wonderful places to collect crystals. Quarry owners generally don't allow that. Don't enter a vug without explicit permission. It's rare to get that nowadays. Collecting these was done in the days before MSHA rules.
Weather – spring and winter are the most dangerous seasons, in terms of highwall stability. Those are the wet seasons. Dark rocks – are wet – notice dark, water-saturated highwall faces. Water has weight. Water helps to destabilize rocks – it adds weight to highwalls, which further destabilizes the area.
Also consider expanding clays.
Also consider the freeze to thaw period.
Recognize unstable highwall hazards – highly fractured strata, overhangs, back break, high angle joints & faults, cross-bedded or dipping start, solution-enhanced joints, vugs filled with loose debris, unconsolidated material on the bench, highwall geometry, weather factors, etc.
Silica Shale – has specific horizons with extra-good fossil – unit 9.
A Silica Shale quarry visit long ago – a small bench with unit 9 was present – a five foot tall bench – not really a highwall. Chiseled in – rock was fractured. Rock was wet & weather was cold. Pried back several feet into five foot bench. Collected fossils. One geologist moved on eventually. At the end of day, another geologist reported that three foot worth of rock had toppled over – several tons collapsed. Chiseling had undermined the toe of the highwall under cold and wet conditions.
Don't allow rulebreakers to keep breaking rules.
Quarry hosts may prevent collecting in the trough. At Paulding, a trough is present ("power trough") between highwall and crest of blast pile.
Barricades – quarry owner may make an arc of stone along part of highwall. Don't enter the area. May have "Keep Out" signs as well – not all barricades are accompanied by signs. Some barricades are hummocky piles of material. If you see an anomalous pile of rocks – think through – what's it for? Barricades don't have to be large, but they can be.
Barricades are made to keep miners out. They certainly don't want collectors in there.
Allowed to collect the outside of a barricade.
South Rockwood – berms are used, instead of barricades. Berms are linear rock piles perpendicular to the highwall – they don't connect with the highwall. May be allowed to collect from berms, but don't be on the inside of the berm. That issue wasn't brought up during site-specific collecting. Piles of rock that parallel the highwall? Ask about them. Not a barricade – a long, linear berm. Barricades are arcs that connect to the highwall.
If there's a row of rocks parallel to the highwall, ask about it.
Highwall issues are the most important part of this safety training.
Collectors, while looking downward, can walk into trouble. Constantly look around and assess your position and situation.
Ground control – bench safety. Hazards from above – don't want to go over the edge Look for unstable fractures in the bench itself. Slips, trips, falls – trip hazards are present on benches as they prepare for the next blast. Unstable ground. . . .
Stay 8 feet from stable edge of bench. Are back-breaks present? 8 feet begins behind them. Miners closer than that have to wear safety belts with lines.
We are not miners – we are not allowed closer than 8 feet to the bench edge
Example miner death – an experienced drill operator was walking along a bench edge on 13 August 2002 in foggy conditions and fell to his death – fell only 23 feet.
Don't stand on rocks below the edge to collect. People who do are called "organ donors".
Ground control – spoils piles. These are commercially non-viable material piled up. Can have wonderful fossils. Be cognizant of slope. Watch collectors below you. Don't work directly upslope or downslope from others.
Shale spoil piles can be rich in fossils – sometimes collecting them is allowed, sometimes not. Spoil piles can be safe to collect. Footing is better when moist. Trickier when dry.
Crushed stone piles – not specimen-rich. Never climb them. They have steep, unstable slopes. Never been invited to collect these.
Blast piles. Some quarries allow you on them – some don't.
After blasting, material is put onto trucks and shipped away. Toes of blast piles get removed first. Avoid removed toes of blast piles.
Collect in areas where toe is still intact – enter blast piles (if allowed on them) from the toe (enter at an area with a low angle of repose). Avoid truncated toe areas.
When atop a blast pile, keep knees bent. Remember to engage in three point contact (two feet and one hand) – don't burden your arms and hands with stuff – need to be free. Have to have at least one hand free. Test the stability of next rock before transferring your weight. Move slowly. Don't always be crouched, but always have one hand free for the 3rd contact. Can use prybars as a cane or walking stick. Getting back down is trickier than climbing up.
For carrying large/heavy specimens across wet/slick blast piles – use a log carrier. If you are carrying a large, heavy specimen in front of you, you're walking blind – can't see your next step – easy to slip and fall. If you do fall, abandon the specimen.
It allows a clear line of sight, lowers your center of gravity, and allows one to lower the sample without damage if you begin to lose balance. Does put torque on your back, however. Maybe use a back brace. Some collectors use a log carrier to carry larger rock specimens.
—————————
Story about the eight foot rule from the edge of a bench.
In the 1990s, a collector entered an Indiana quarry, alone, without telling anyone. Was prying pieces of rock away from a bench, facing toward a highwall. A piece popped up – lost balance – went face first over a ~30 feet tall highwall, down to the floor below. Passed out. Woke up later. Collected gear. Crawled out of quarry. Took 12 hours of crawling to reach the road – carried his equipment with him. Broke both legs. Shattered left knee and left elbow. Knee & elbow were compound fractures. Had to reattach muscles to knee & elbow. Leg had a vertical break through bone. Whatever it takes to live up to the collectors' code to retrieve tools. 3 major surgeries in 4 days. He should've been dead.
He had been pushing on a crowbar when it slipped – he went forward & over & down.
This person committed numerous mistakes – they should have cost him his life.
—————————
Working near moving equipment.
Host will inform about the presence (or not) of moving equipment while collecting.
Most of the time, heavy equipment will not be moving.
Power haulage accidents (big trucks & front-end loaders) are # 1 cause of miner deaths in the last 22 years.
Big haul trucks – views from the cab have enormous blind spots. Be respectful of the size of the equipment and the visual disadvantages the drivers have. Big haul trucks have blind spots: within 24 feet of tires, with 50 feet in front, 100 feet to the opposite side, and 100 to 150 feet behind.
Front-end loaders have less, but still substantial, blind spots, up to 29 feet.
When they come over the crest of a road, they have short sight distances. May not easily see you or your vehicle. They can't stop on a dime.
Example fatal mine accident – a foreman's truck got run over by an employee.
Example: a car got run over & caught on fire.
This is what happens when heavy meets light.
Don't want to be around moving heavy equipment.
Example fatality: a truck was going up a 26% grade – driven by a new, inexperienced miner. The brakes and the back-up brake system were poorly maintained. Traveling up a steep ramp – nearly at the top. Truck stalled. Without brake system working & not aware of how to use back-up brakes, the truck free-wheeling down the ramp. Hit a berm – truck went over a highwall – killed him. Lesson – don't follow a truck up a ramp.
Trucks stalling out are not uncommon, according to quarry foremen. Wait for truck to reach the top before you begin your trip out.
Moving equipment always have the right-of-way. Always face & acknowledge the driver. Maintain eye contact. Never park near or behind such vehicles.
Always ask where to park. And walk. And be. Never follow vehicles up a ramp.
Tool safety.
Not all tools are intended to be used with stone.
Don't overstress tools. Use well-maintained tools.
Hammer & chisel – most common tools.
Flying metal chips may result from worn/mushroomed tools.
Beware flying rock pieces.
Watch smashed thumbs (chisel hand).
Watch detached hammer heads – they become airborne.
Glancing blows on chisel – it may fly away. This has been observed during collecting trips.
Chisels with hand guards are advised. They aren't mandatory. Get them at Lowe's.
Some chisels have wrenches or vice grips attached – can hold the chisel that way. Reducing risk of hitting your own hand.
Use chisels specifically for stone or masonry. Not for-metal or for-wood chisels.
Watch out for mushroomed chisel heads – get them ground/dressed. Otherwise will have flying metal bits.
A collector using a mushroomed chisel sent a piece of jagged metal flying and hit a nearby collector in the arm.
Hammer selection – mason's hammer (chisel end, but not really – for soft materials), pick hammer (not designed for chiseling), drilling hammer (have broad faces – ideal for striking chisels). The former two aren't good for striking a chisel head. Need a larger-faced hammer.
Longer-handled hammers saves wear & tear on your arm.
Estwing offers multiple-length hammers.
Some hammers have two-part construction. Heads are usually loose after one day of intense usage in a quarry, however. Go for single-piece constructed hammers (Estwing).
The width of the hammer's striking face should be a least 3/8 inches wider than the width of the chisel head.
Keep one hand grasping the chisel at all times, even if you think the chisel is securely embedded in the matrix. Glancing blows do send chisels flying – this has been observed.
Ludlow Falls – has trilobites in dolomite. Collecting with a short-arm drilling hammer is tought. With a long-arm drilling hammer, collecting is so much easier.
Ludlow Falls is a non-stop hammering site.
One a hammer head begins to loosen – it's a hazard.
Wooden-handle hammers don't last one day at Ludlow Falls Quarry.
Always have eye protection.
Cutoff saws – not all places allow cutoff saws.
Watch burns from a hot manifold. Watch back strain, silica dust, flying debris, cutting disc explosion from excessive RPMs, kickback. Metal discs can disintegrate. Saws are noisy – do ear protection.
Lots of different types of blades. Segmented blades are effective for rough-cut work, for removing a delicate specimen with lots of matrix around it. Inspect cutting blades for cracks, warping, excessive wear. Never move guard. All have a trigger release mechanism – once your finger is off, it starts slowing down.
Blade RPM must be greater than the saw RPM. Keep dust filter cleaned.
Use gloves, dust masks, steel-toed boots, hardhat, eye protection, dust mask.
Need a respirator. Some rocks have low silica content, but no dust is free of hazard, in terms of silicosis. It's a nasty disease. Don't be cutting near other collectors, or only with their permission.
Fuel up saws when cold.
Support back by bracing elbow against knee while sawing.
Don't forcefully push blade into rock. Pull blade back across the stone.
Never hand off a saw to someone else while blade is rotating.
Avoid touching the hot muffler.
Clean dust regularly.
Watch shifting winds from dusty saw use.
Rock drills. A popular tool. They create fewer vibrations – good for extracting delicate crystal vugs. Not much dust, compared with saws. Can chew up a lot of rock per unit time. Relatively dust-free. Wear a respirator anyway.
Hammering set pins. Can go flying with glancing blows from a sledge hammer.
Rock drilling is not a spectator sport. Give 'em room. Always a risk of metal failure.
No such thing as an unbreakable hammer.
Stupid activity – striking a chisel on the cutting edge.
Stupid activity – a Ph.D. student was once allowed access to a quarry, and was discovered by foreman hanging from a rope along the highwall, sampling beds – the rope was tied to the vehicle's bumper, while parked on a ramp. Lots of mistakes there.
Lifting safety.
Back pain risk factors – lifting heavy loads, . . .
Know personal limits. Wear a back brace. Bend at knees close to the load. Place hands on opposite corners of object – one hand pulls toward you & other lifts. Bring load close to body. Keep back vertical. Use legs to push yourself into a standing position. Change direction using feet – don't twist your back.
Blasting. Quarry will inform you if this is planned.
Few have witnessed actual blasts. Flyrock can travel far. Can get miner deaths from that, including a miner a quarter-mile away.
Avoid intact, undetonated explosive charges. Report them to field trip leaders and foreman.
Know blasting schedules before entering. Clubs hardly ever do a field trip when blasting is occurring anyway.
Loud horns are sounded right before blasting – the horns are very distinct.
Water hazards – sumps and conveyance channels.
Most mines extend below the water table. They continually pump groundwater out.
Sumps are where all water collects at low areas. Water is cold, year-round. 55 degrees Fahrenheit temperature. We are never authorized to enter a lake, sump, or conveyance channel in a quarry. Abandoned mine drownings – Ohio leads the country in deaths from that (these deaths are not collectors, however).
Quarries that have been abandoned are generally not safe places to swim. Tell your kids.
Water is stratified – the cold water is below the warmer upper layer.
Weather conditions – heat can be troublesome.
Heat exhaustion can occur. Multiple symptoms. Risk factors – heat index, standing in full sunshine, lack of breeze, insulated clothing, physical exertion, being old, heat-reflecting surfaces, hat/helmet. Make provisions. Bring cooler with ice and towels. Be hydrated before & during visit.
A collector at an Aurora, North Carolina phosphate mine forgot to eat or drink, due to collecting enthusiasm. When it was time to haul fossils out, he took one step & froze up – body cramped up. Had to have others help him out & bring his stuff out.
First aid. Drink lots of fluid. Coffee doesn't count. Remove unnecessary clothing. Iced towels. Fanning. Lie down with feet elevated, if dizzy. Turn on side, if nauseous.
Heat stroke requires immediate attention. Go to hospital. Are specific symptoms.
Lightning. While at Cardon, a collector on a blast pile had a storm move in. Moved off blast pile. Lightning started striking.
A strike can occur up to 15 miles away from a storm.
If you can hear it – it's too close.
Direct strikes are not the most frequent cause of lightning deaths (only 3 to 4% of deaths are direct strikes). Most deaths are from ground current within 100 feet of a strike.
Can get horizontal arcing 60 feet away.
If trapped outside in a thunderstorm – don't lie flat – it increases your chance of electrocution by ground current. Lightning gets conveyed through the metal of a car – that's what protects you – not the rubber tires.
Don't start collecting again until 30 minutes after the storm passes (after the last lightning/after the last thunder).
During storms, avoid open areas (floor or bench), avoid water (sumps), avoid metal objects, avoid crawling under big equipment. Crouch down against a rock with feet close together (not far apart), rather than lying down.
Most accidents occur when one is rushed or tired.
Realistically allocate time for trimming, carrying, packing, loading samples.
Don't keep host waiting past the end time.
Collecting is a privilege. Behave in a way that earns the respect of your host, and an invitation to return.
Posted by James St. John on 2018-04-18 16:14:45
Tagged: