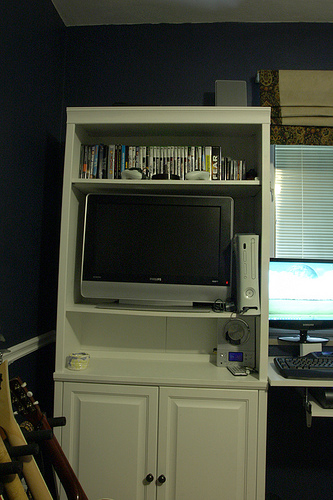 TV is set up with Xbox. I run TVersity to stream my media from the tower to Xbox.
Behind the doors i keep my cleaning supplies (dust off, goo gone, etc.), duct tape, electric tape, and my subwoofer.
Guitar Rack holds 3 Electric Basses, 1 Acoustic/Electric Bass, 1 Electric Guitar, 1 Acoustic Guitar
and hides and old tower and gig bag.
For the guitar nerds:
Music Man Sterling Limited Edition Bass – All Quilt Maple Neck.
Alvarez Prototype Bass- never made it to production
Squire PJ Bass- I made it fretless
Michael Kelly 5 string Acoustic/Elec. Bass
Jackson DKMG
Stella Acoustic
I have a dead '69 Fender Jaguar Bass behind the rack that I will turn into a table later.
Posted by ghj3443 on 2010-08-17 22:20:03
Tagged: