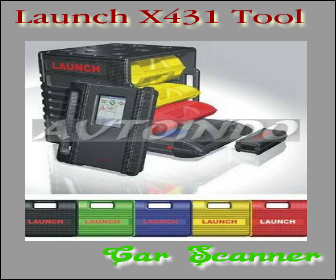 LAUNCH X431 TOOL
Keterangan:
X-431 TOOLis perangkat diagnostik kendaraan dengan tampilan layar warna dan teknologi Bluetooth untuk garasi
terutama designe. Ini fitur anti-noda minyak, debu dan anti-shakeproof itu.Kabinet tipe dengan desain delaminasi
dan kotak tidak terikat dapat meningkatkan efisiensi penggunaan sangat.Hal ini secara langsung dapat diisi melalui
INTERFACE bawah lemari alat.Perangkat ini terwujud humanisasi dan akan menjadi asisten yang baik untuk garasi.
fungsi:
Kreatif desain, penggunaan yang sangat efisien
Bluetooth dan teknologi nirkabel
Warna tampilan layar, input sentuh
Dengan fungsi BUS CAN
spesifikasi:
Produk Parameter:
Sistem operasi: LINUX
CPU: 32-bit
Kartu CF: 128M
Unit utama I / O: port serial standar
Unit utama sumber daya: DC12V
Unit utama listrik: sekitar 9W
Layar: 240 * 320 LCD warna layar sentuh dengan backlight
Tampilan: 240 * 320 LCD warna layar sentuh dengan backlight
Konfigurasi: unit Utama,DIAGinfinite,minipriter
Com. Jarak: 25 meter
Sumber daya DIAGinfinite: DC12V
DIAGinfinite listrik: sekitar 3W
Suhu operasi: -20 ~ +70
Description:
X-431 TOOLis a vehicle diagnostic device with color screen display and Bluetooth technology for garages especially designe.
It features in anti-oil stain, anti-dust and it's shakeproof. Cabinet type with delamination design and unattached box can
enhance usage efficiency greatly. It can directly be charged through the bottom interface of tool cabinet. This device
materializes humanization and it will be a good assistant for garages.
Functions:
Creative design, highly efficient usage
Bluetooth and wireless technology
Color screen display, touch input
With CAN BUS function
Specifications:
Product parameter:
Operation system: LINUX
CPU: 32-bit
CF card: 128M
Main unit I/O: standard serial port
Main unit power source: DC12V
Main unit power: about 9W
Screen: 240*320 color LCD touch screen with backlight
Display: 240*320 color LCD touch screen with backlight
Configuration: Main units,DIAGinfinite,minipriter
Com. Distance: 25 meters
DIAGinfinite power source: DC12V
DIAGinfinite power: about 3W
Operation temperature: -20??~ +70??
Posted by autoindo on 2011-09-09 07:09:39
Tagged: