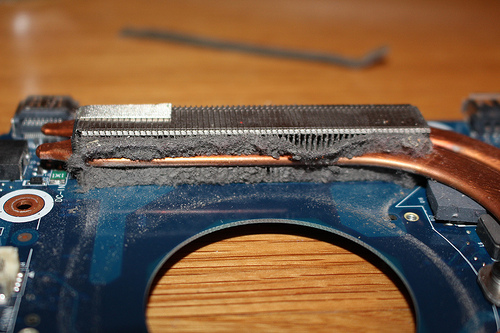 No matter how clean your computer may appear dust will build up on the inside. Any machines which use a fan for air cooling are drawing dust, along with that cool air, into the computer and then blowing that dust over the components that they are trying to cool. Over time the dust forms a blanket.
This particular machine was overheating during a Windows update, to the point where the machine would shut itself off. Shutting off mid-way through a Windows update isn't good. The computer just got itself into a loop, never completing the update.
Vacuuming does not help. With the slots in the radiator so small a vacuum will not pull the accumulated dust and hair through.
Compressed air into the vents on the computer does not help. If you simply blow into the vents you blow the carpet of flotsam back into the computer. While it may make things better for a while it's likely that the machine will soon start to overheat again.
The only way to clear this out is to take the computer apart.
Posted by Daz71 on 2013-07-30 07:30:29
Tagged: , motherboard , cooling , computers , IT , repairs , dust , Samsung , laptop