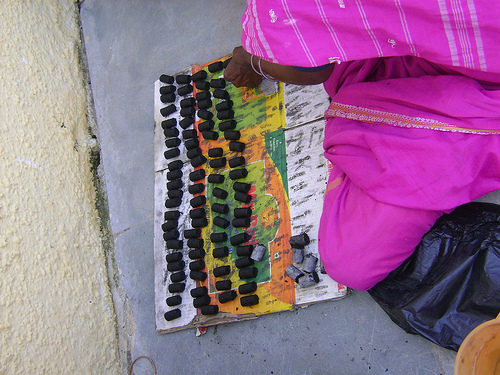 (c) Mayur Paul/HelpAge International December 2009
68 year old Lakshmi makes incense sticks at a older people's village run by HelpAge India.
"Before I came to the older people's village, TEV, set up by HelpAge India, my husband was not doing well. First he was hospitalised and then he passed away. I was in a bad condition after that and had suffered with my husband. An older woman from the my local Elders Self Help Group told me to inform the group about my condition during a group meeting. When I told the group about my situation they recommended me for admission to the TEV (an older people's village supported by HelpAge India).
Incense stick making at TEV
I am now a member of the self help group here at TEV. As a member of the self help group, I am on the food committee and do work in the kitchen. I help the older people who are dependant on care. Also, I help in making these 'computer sambrianis'."
Sambriani is an incense stick and in the local market everything that is man made gets the prefix 'computer'.
"I learnt how to make these sticks here at the TEV. First we take the sambriani powder then purchase the plant that is used to make these sticks. We grind it to make it a paste and then add saw dust and water. Then we force the paste through the mould to make these stcks.
It is good work and helps me pass time. About 7 of us make some 100 boxes a month. From this we make a profit of Rs 150 each. One box has 24 incense sticks and sells for Rs 20 each."
Posted by www.helpage.org on 2010-05-06 16:58:40
Tagged: , Lakshmi , India , Asia , older , people , elderly , smile , teeth , incense , sticks , 2009 , Mayur , Paul , HelpAge , income , generation , money , poor , village , english