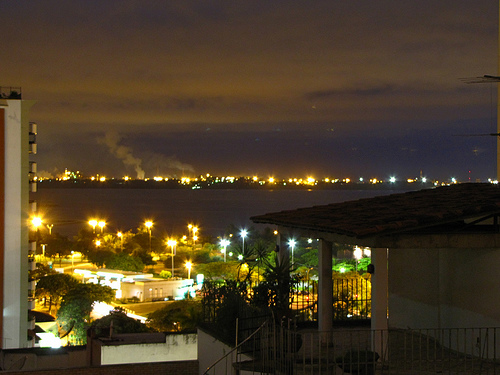 Eu fiz esta foto poucos segundos antes da foto que postei aqui com o nome de "foto normal" (www.flickr.com/photos/fabiokalunga/3281998838/). Esta foto representa os ajustes que eu estava fazendo até chegar ao resultado que julguei satisfatórios, que foi justamente a "foto normal".
Quando eu transferi esta foto aqui para o meu computador, eu notei que haviam pontos luminosos no céu ao fundo, e que eu não havia percebido no momento que fiz a foto. Estes pontos luminosos, quando você aproxima a visão para mais perto deles, parecem-se com pequenos "discos voadores", vários deles cruzando o céu.
Obviamente eu não vou afirmar aqui que se trata de um caso de avistamento de OVNIs. Alguém pode deduzir: talvez tenha sido uma poeira que ficou na lente na hora da foto. Porém, eu fiz outra foto (a "foto normal") segundos depois, e esta "poeira" não aparecia. Eu não limpei a lente antes de produzir a foto seguinte, feita quase que instantaneamente após. E fiz questão de postar as duas fotos sem qualquer ajuste feito por software para isentar qualquer tentativa minha de inventar algo.
Enfim, ficou registrado algo curioso e bem estranho nesta foto. Por curiosidade, vou enviar esta foto para especialistas em blefes envolvendo registros de OVNIs para saber o que são estes pontos luminosos, pois eu sei que eles têm recursos técnicos para definirem o tamanho real deles para poderem deduzir o que eles são. Estou curioso…
Por favor, isto não é para ser levado a sério. Enquanto isso, fica registrado uma "invasão de OVNIs" em plena Praia de Camburi (Vitória-ES-Brasil), hahahahahaha!!!
***
I made this picture a few seconds before the photo you posted here with the name "normal picture" (www.flickr.com/photos/fabiokalunga/3281998838/). This photo represents the settings that I was doing until the satisfactory result that I thought that was just the "normal picture".
When I transferred here this picture to my computer, I noticed they had bright points in the sky background, and I had not noticed when I made the picture. These bright points when you close the vision closer to them, resemble small "flying saucers", many of them crossing the sky.
Obviously I will not say here that this is a case of sighting of UFOs. Someone may deduct: perhaps it was a dust on the lens at the time of the photo. However, I did another picture (a "normal picture") seconds, and this "dust" does not appear. I don't cleaned the lens before you take the photo below, made almost immediately after. And my question to post the two photos without any adjustment made by any software to exempt my attempt to invent something.
Finally, it was something interesting and well recorded in this strange picture. For curiosity, I will send this picture to experts in records involving bluffing UFOs to know what these points are bright, because I know they have technical resources to define the actual size of them to be able to deduce what they are. I am curious …
Please, this is not to take seriously, rsrsrsrsrsrs… Meanwhile, it recorded an "invasion of OVNIs" in full Camburi Beach (Vitória-ES-Brazil), hahahahahaha!
Posted by Fabio Martins76 on 2009-02-15 16:49:30
Tagged: , low light , OVNI , UFO