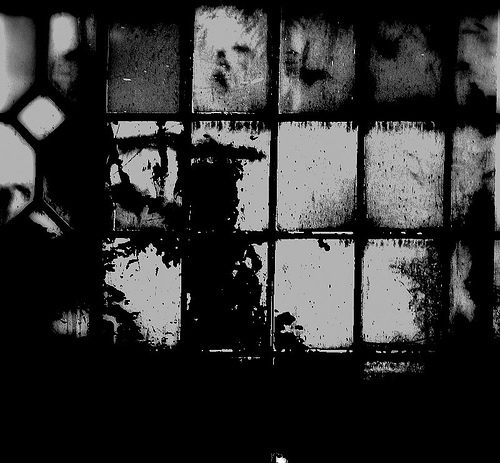 Poem by Elie Wiesel/ photo by Namerif (Douglas Fireman)
Never Shall I Forget
Never shall I forget that night,
the first night in the camp
which has turned my life into one long night,
seven times cursed and seven times sealed.
Never shall I forget that smoke.
Never shall I forget the little faces of the children
whose bodies I saw turned into wreaths of smoke
beneath a silent blue sky.
Never shall I forget those flames
which consumed my faith for ever.
Never shall I forget that nocturnal silence
which deprived me for all eternity of the desire to live.
Never shall I forget those moments
which murdered my God and my soul
and turned my dreams into dust.
Never shall I forget these things,
even if I am condemned to live
as long as God Himself.
Never.
To access a bit of history regarding KristallNacht, please click on website below.
www.ushmm.org/museum/exhibit/online/kristallnacht/frame.htm
The photo is a manipulation of a semi-frosted glass window that I discovered
while visiting a 300 year old Sephardic synagogue in Amsterdam, Holland.
On the day of my visit, I noticed that reflections from Inside the synagogue
together with the sunlight shining from without made for a Very interesting
effect. So, I took several pictures.
Upon uploading the photo to Picasa, a computer program that enables me
to enhance my digital photographs, I changed the original coloring of the picture
to Black and then manipulated the imagery untill, to my surprise, the above
effect was obtained. I did no painting, nor did I draw any of the images.
Needless to say I was Amazed, since the interior of this picture looked Very much
like Birkenau Death Camp. A hop, skip, and jump from its sister camp,
Auschwitz- Birkenau housed the gas chambers and crematoria for this particular
killing region.
For those who might not be aware, Hundreds of concentration camps were scattered
Throughout Germany and German occupied countries, where approximately 6 million
innocent Jews and an equal amount of non-Jews considered enemies of the Third Reich,
were systematically murdered by the Nazis.
Perhaps my interpretation of this picture may be of help to the viewer.
It is a cold, winter day. Two groups of recently arrived prisoners stand
in lines waiting to be gassed. The brownish like structure at the approximate
midrange of the photo, is a portion of the imposing gate through which
the trains entered, some of which can be seen pulling into the camp
(at the approximate center from the third horizontal line from the top,)
below which groups of prisoners can be seen milling around.
The young child, huddled against the steel-barred gate in the
foreground, sits stunned, as clouds of black smoke seemingly
float above his head.
At the top of the photo, in the clearest pannel, is a screaming face
reminiscent of Edvard Munch's masterpiece, 'The Scream.'
A closer scrutiny of this panel might reveal the two bearded Eastern Europen Jews
sitting at a small table.
The photo and poem reflect the height of Man's depravities toward others.
Posted by namerif13 on 2008-11-09 22:56:51
Tagged: