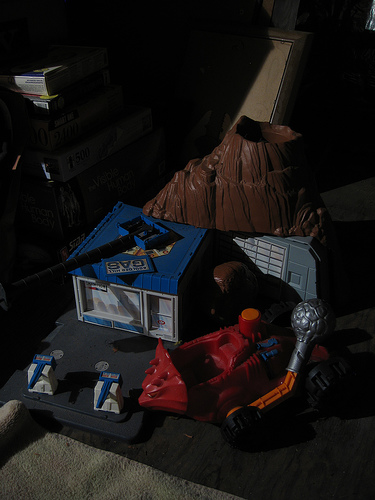 The "Boulder Hill Playset," #7 on RetroJunk's "Top Ten 1980's Action Figure Playsets" list is still in fine condition, sans box/manual, but some parts need to be reassembled, and as with everything in the attic, it needs a good dusting.
Here it's either under attack, or being guarded by He-Man's "Bashasaurus."
Stacked in the background, and darker than I thought they'd be in the final picture are, from bottom to top: Something Star Trek: The Next Generation (either a puzzle, or a model of the Enterprise), The Visible Human Body, a probably somewhat generic 500-piece puzzle, a "Smart One" 2400 baud modem, a pack of 10 lousy screensavers for "IBM" computers, and something I loved back in the early 90s, the Gravis PC Gamepad, which was the first non-joystick I'd ever seen for the PC. It made my PC games a lot more fun. It is missing (box is empty).
Posted by gfixler on 2006-12-29 11:39:55
Tagged: , MASK , Mobile Armored Strike Kommand , 80s , eighties , 1980s , toy , Boulder Hill , Boulder Hill Playset , He-Man , Bashasaurus , playset , M.A.S.K. toys series 1 , M.A.S.K. toys series 1 heroes , M.A.S.K. Toys , M.A.S.K. toys heroes