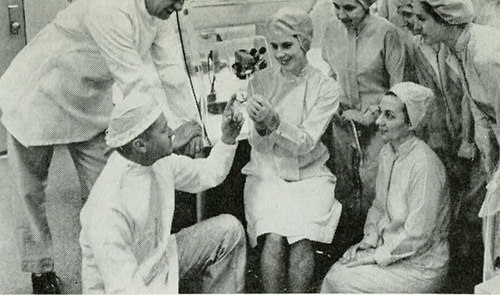 Identifier: belltelephonemag4344amerrich
Title: Bell telephone magazine
Year: 1922 (1920s)
Authors: American Telephone and Telegraph Company American Telephone and Telegraph Company. Information Dept
Subjects: Telephone
Publisher: [New York, American Telephone and Telegraph Co., etc.]
Contributing Library: Prelinger Library
Digitizing Sponsor: Internet Archive
View Book Page: Book Viewer
About This Book: Catalog Entry
View All Images: All Images From Book
Click here to view book online to see this illustration in context in a browseable online version of this book.
Text Appearing Before Image:
te electronicssince the original transistor was invented atBell Laboratories. At first, the process was applied in thefabrication of low-power switching transistorsof the type used in computer circuits; thisresulted in transistors of faster speeds andlower power consumption. The fabricationtechnique is now used to make a majorityof transistors—low-frequency devices as wellas those which operate at microwave fre-quencies and devices which operate over abroad range of the power spectrum. Last UnderseaAmplifier Tube H With hardly a ripple one of the mostamazing and exacting manufacturing jobsever undertaken for the Bell System hasslipped into communications history. Production of a unique electron amplifiertube, built to operate continuously for 20years or more at the bottom of the sea, wasconcluded at Western Electrics Allentown,Pa., plant when tube number 67,201 reachedthe end of the special assembly line. Advances in transistor technology havemade it unnecessary to continue manufac-
Text Appearing After Image:
Workers in super-clean shop smile us lastof amplifying tubes reaches end of the line. turing the tube, which was built to serve asthe basic voice signal amplifier in rigidundersea repeaters. Spliced into trans-oceanictelephone cables at 20-mile intervals, therepeaters strengthen voice currents. To insure dependability, W.E. assembledthe tubes with painstaking care in speciallydesigned, super-clean facilities at Allentown.The air was carefully filtered; employeeswore lint-free uniforms; parts were shelteredunder protective hoods during assembly;people and materials entered through airlocks to keep out even stray particles of dust. Each tube required nine months of pro-duction time, which included 2,980 inspec-tions and 5,000 hours of simulated opera-tion. Only about one of every ten tubespassed a final, rigorous analysis by a com-mittee of Western Electric and Bell Labora-tories engineers. But meticulous selection paid off. Whenthe last tube came off the line, not a singlefailure had o
Note About Images
Please note that these images are extracted from scanned page images that may have been digitally enhanced for readability – coloration and appearance of these illustrations may not perfectly resemble the original work.
Posted by Internet Archive Book Images on 2014-07-27 10:56:11
Tagged: , bookid:belltelephonemag4344amerrich , bookyear:1922 , bookdecade:1920 , bookcentury:1900 , bookauthor:American_Telephone_and_Telegraph_Company , bookauthor:American_Telephone_and_Telegraph_Company__Information_Dept , booksubject:Telephone , bookpublisher:_New_York__American_Telephone_and_Telegraph_Co___etc__ , bookcontributor:Prelinger_Library , booksponsor:Internet_Archive , bookleafnumber:362 , bookcollection:prelinger_library , bookcollection:additional_collections , bookcollection:americana