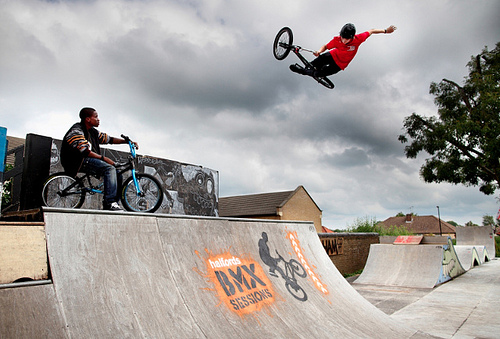 So there we were working in the studio when a call comes in on the id-iomphone. A swift conversation reveals that Halfords is in need of our assistance as they are having a photoshoot with Tinchy Stryder for their forthcoming 'BMX sessions' promotion and they need some urban style graphics – pronto! A brief confab later and – POW! – we have a design idea which just needs a little fleshing out. Following some rabid computer work we manage to come up with our design which, after just a modicum of tinkering, is then quickly approved.
The next step is to get it all ready to be sprayed. As is often the case with these types of job there's a strict deadline – and it's looming fast. No problem. We pull out the patented 'id-iomscalpel' and it's all taken care of with a minimum of fuss. So far so good. Then all we need are a few cans of 'Halfords orange' and we're good to go. We need to make it down to Skaterham (in Caterham! Ha! Get it?) for the ungodly hour of 7am (I usually only see this hour when going on holiday) but with the team down to one man down there's no time to waste so I need to get there on time.
The design had to be sprayed a couple of times – indoors first in case it rained (really? in British summer time? Surely you jest?) and then outdoors as well (the light is much better apparently – when it's not raining). It was all done and dusted in a couple of hours and then Tinchy showed up to do his thing. Apparently his name comes from the fact he's tinchy (that much I can verify) and that he used to love the arcade game Strider (I can verify this to be a classic game). So there you have it. Another case sorted. London can sleep safe again…
The final PR pics (and video) can be found on our blog if you like that sort of thing – CLICK ME FOR MORE PICS AND VIDEO!
Cheers
id-iom
Posted by id-iom on 2012-07-20 10:50:04
Tagged: , idiom , graffiti , oitch , halfords , tinchy , stryder