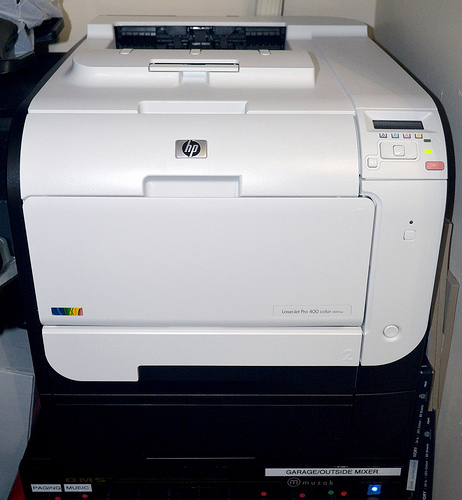 Help me welcome the newest addition to the fleet: the HP Color LaserJet M451nw!
I've had HP color lasers in the past, but both of them have had major issues that killed them. My previous color laser, the HP Color LaserJet CM1015MFP, shot out a nice plume of black smoke as I printed a document with it about a year ago. I threw it out and replaced it with the HP OfficeJet Pro 6830, a printer I picked up at work last Black Friday for the jaw-dropping price of $44.
The OfficeJet Pro 6830 has some great features. It's one of the only inkjet printers in its class that comes standard with a wired network interface, which is my preferred method of connecting printers. (It also comes with wireless, but HP's stupid software setup utility absolutely hated my wireless networks. This is not the first time I've ranted about this problem, and it surely won't be the last. Fortunately, I never use the wireless connection.) The other feature I liked? Native software-free AirPrint support regardless of whether the wireless connection was enabled. HP did well to include this right out of the box when it hasn't been well to include that support on other printers, both inkjet and laser.
The cons of the OfficeJet Pro 6830, though, are what drove me back to looking for a secondary printer. Its most major flaw is with the wired network connection. For whatever reason, it's not reliable and drops off the network. The "auto-on" feature freezes up the printer, and the "printhead error" dialogs appear on a daily basis.
Oh, and did I mention this thing chugs ink? It uses the 934 and 935 cartridges, which most stores only sell in the $40 multipack option, not as individual cartridges–and lucky for us, HP has disabled the use of compatible cartridges in this model. As usual with printers, it would cost more than the machine to replace the cartridges. Enter printer shopping and my want to return to some kind of laser machine.
At first, I looked into the LaserJet Pro M401n. That's HP's "step up" from the P1102w, which I'd also originally considered but passed on due to the issues with connecting to wireless I've experienced with one of those at a client's place. The M401n uses the same toner as the P1102w, which meant it would only cost me $20 for a compatible if I needed a replacement. I kept that printer in mind and kept looking around HP's website.
Then I got an idea: I'd seen the M451nw at Staples a couple weeks prior and liked it. The only problem was the outrageous $600 price tag Staples was charging, and I knew I wasn't going to pay that. My jaw dropped when I discovered HP had this printer on sale for $219.99. I added a promo code, and it knocked $67 off the price tag–$152.99, which made it cheaper than the M401n. At that price, I knew which printer I was buying! Another promo code landed me the second sheet feeder (Tray 3) for $72.99. The whole machine with the accessory tray (which is normally about $130 by itself) cost $226 after discounts. I also went ahead and dropped $5 on a stick of 256 MB DDR2 laptop memory to max out the printer's RAM at 384 MB.
All that might seem like a lot of money, but when you factor in how long HP laser toners seem to last me, it was a no-brainer. When my CM1015MFP bit the dust, it still had the introductory toners in it from when I bought it as a sophomore in high school in 2007. I printed countless 10-page papers, a 50-page packet of history notes every two weeks for a year, numerous study guides, yearbook spreads, production note packets for broadcast crew, *and* all my college stuff off those toners, and they still had about 20% capacity left when the printer died in November 2014. I think it's safe to say why I like HP laser printers. I'll keep the OfficeJet Pro 6830 for scanning capability, but all my printing will now be done by the M451nw.
Overall:
Ease of setup – 5/5.
Software – 3/5. It's yet another one of HP's modern-era, resource-hogging, Flash-based installers. This is the only problem with the entire setup process.
Print quality – 5/5. This thing is definitely 10,000 leagues above the CM1015MFP, as good as that machine was to me. Yearbook proofs looked great on the CM1015MFP, but they would look way better on the M451nw.
Build quality – 4/5. These paper trays are *way* too easy to open. Lightly bumping the table the printer is on opens at least one of the paper trays every time. I only wish HP would've used the same latching technology on Tray 2 and Tray 3 (the optional add-on tray) as they did on Tray 1.
Options – 5/5. AirPrint capability on a workgroup color laser printer, and that capability *just works* right out of the box? The ability to print several useful templates (note paper, graph paper, checklists) straight from the panel of the printer without having to install any pointless software on the computers that use the printer? Laser-printer-wise, this is usually stuff HP has only included on the $1,000 LaserJet Enterprise printers in the past. Kudos to HP for bringing those features to the cheaper laser printers.
Final score – 22/25.
B+
This printer's only two flaws are with the software (which you only have to deal with when you install the printer) and the paper trays. The long-term durability of the paper trays is really my only worry about this printer. Otherwise, I wouldn't hesitate to recommend this printer to anyone who is looking for a color laser machine.
If you need a duplexer for front-and-back printing, the M451dn and M451dw should be where you decide to look. The M451dn only has wired networking capabilities, while the M451dw has wired and wireless connection interfaces.
Posted by compdude512 on 2015-10-05 04:24:28
Tagged: , HP , Color , LaserJet , Pro , 400 , M451nw , printer , network , computer , device