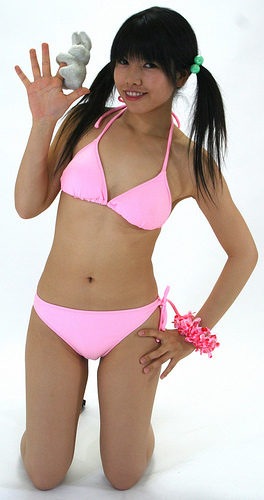 "Shiroi, would you like to guess how happy I am at this very moment?"
"Well, Hopper, I suppose you'd be peaking any bunny happy meter aimed at you right now if I had one."
"That's right! I've waited all year for moments like this!"
"Actually it was a little over a year since you saw her last, right, Hopper?"
"That's right, Shiroi! it was so long! How could you have deprived me so?"
"I'm not made of money, Hopper."
"You never shot Yuina in a bikini before today. You should have remembered how you saw how some other guys have, and gotten more motivation to make more money to get back here sooner."
"Hopper, the overall appeal of Japan is what motivated me to spend as much on this trip as I have."
"Especially Yuina!"
"Especially the nice people in general, Hopper."
"Except you don't want to see that nice man at the hotel reservation desk in a bikini, Shiroi."
"That's right, Hopper. As if he would even wear one. Yuina, known as Maron today, is an absolute delight in many ways, but I was referring to the overall appeal of Japan for me."
"And of models wearing pink! And not much else!"
"Hopper, I like classy bikinis. But the model before Yuina chose not to wear one, and that was fine with me. I want them to wear what they are comfortable wearing. And Sara a few days ago wanted me to choose all her outfits. Did I choose four bikinis? No. One bikini. One lingerie. One seifuku. One yukata kimono. Traditional kimonos don't show a lot of skin, but they are gorgeous."
"Um, right, Shiroi. Yuina is gorgeous no matter what she wears, but right now, since I have no neck, I can't wait until she moves her finger I'm clinging to around so I can get an even better view!"
"You'll be able to get plenty of good views from my computer at home, Hopper."
"Sounds great, Shiroi, but right now I am so in the moment I can barely remember what a computer is."
Posted by shiroibasketshoes hopper on 2008-11-11 23:16:23
Tagged: , Japan , model , actress , pretty , beautiful , sexy , bikini , swimwear , swimsuit , babe , charming , Asian , female , feminine , femininity , cute , adorable , lovely , hot , bunny , rabbit