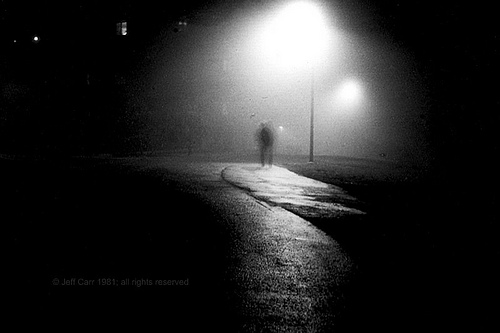 "Fair is foul and foul is fair;
hover through the fog and filthy air"
– William Shakespeare – Macbeth
————————————————
Oswego, spring 1981 Scanned one of my earliest prints; I took this as a freshman in college on the campus of SUNY, Oswego, NY. (the SLR was probably a Yashica and film probably tri-x) Even though this was over 25 years ago I still remember being in my dorm room, seeing the fog envelope the campus and dashing out into the night with my tripod to shoot the fog which had come in from Lake Ontario. It was probably my first images in foggy weather; my dorm buidling is slightly visible in the background. I was at a low point in my life at that time and this result – while not perfect – kept me inspired to keep shooting photography and to keep trying new things.
Not digitally cropped or photo-shopped for effect. Aside from adding a watermark to the flickr version, the only computer post-processing I did was to clean up a lot of "dust spots" as my scanner was dirty. There are, however, imperfections in the original print as a result of bad spotting (the black marks above the figure). Being sloppy at darkroom and craft details like this was and still is a bad habit of mine. 🙂
Even though this shot is 25+ years old and I probably won't go back and reprint, constructive critique is welcome, but please no "awards" or gifs as comments. Thanks. 🙂
© CarrPhotography 1981; all rights reserved
————-
edited to add: Uploaded a companion image taken on the same night.
Posted by Jeff* on 2008-01-17 05:27:54
Tagged: , film , tri-x , 1981 , Oswego , SUNY , grain , dust spots , fog , weather , night , solitary , William Shakespeare , Macbeth , quote , 123bw , Lake Ontario , DreamCatcher , indie-cinema , © 1981 CarrPhotography; all rights reserved , utata_feature , utata:project=nocturnal2 , street , candid , B&W , 35mm , distance