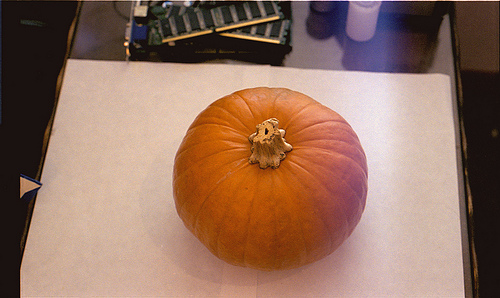 Sugar-pie type pumpkin that I had for Halloween this year. (2010) Taken in Albany, CA by a Nikkormat FT2 with a 55mm Micro-Nikkor ƒ3.5 lens on Kodak Portra 400VC. Negative scanned into computer by an HP G4010, dust eliminated in Paint Shop Pro X2 Photo.
Again, not sure where the blue vertical streak came from – this camera does not have light leaks!
This pumpkin has since been made into pie… there are some DDR memory chips in the background for scale.
Posted by THE Holy Hand Grenade! on 2010-11-10 18:33:42
Tagged: , pumpkin , Nikkormat FT2 , geotagged , Kodak , Portra 400VC , 400VC , Micro-Nikkor 55mm ƒ3.5 AI , Albany, CA