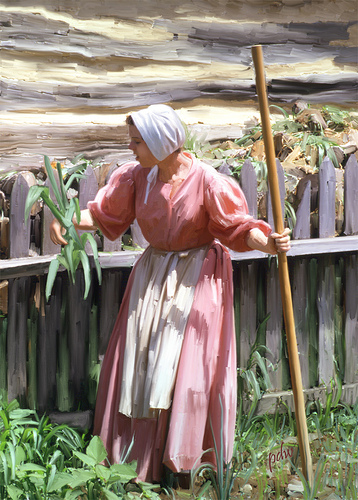 I've heard some people only like beaches and resorts as their holiday destination. Though I also appreciate those attractions, my family has always balanced our outings with historical areas and places of culture. Okay, I realize you can't get a rich dark tan inside of a museum, but the valuable knowledge and experience will be with you the rest of your life.
While driving cross-country, we made an unplanned stop at a historical pioneer settlement, which was an authentic replication of the way rural people once lived in America's early history. As we strolled around the grounds dotted with cabins, barns, places of trade, churches, and all the other structures pertinent to early pioneers, we would stop and carry-on conversations with the 'inhabitants' who kept in character by acting as if they didn't know we were from hundreds of years in their future. It was fun trying to fool them with our modern gadgets, but we also learned much about the way things were done 'back then'.
The young woman depicted in this painting was busy pulling weeds out of the garden. Her clothes were full and designed to fully protect the skin from the sun's mid-day rays… in contrast to the way we normally dress in the present era. Her life would have been hard. Her day was spent working from sun-up to sun-down in the dust and the dirt. Traveling to beach resorts and other tourist attractions wouldn't have been a part of her world at all.
Six hundred miles later, Carol and I were at the beach.
______________________________________________________________
Hand painted using digital pixels to reflect oil paint on canvas.
The artist is both professionally trained and self-taught in traditional art mediums… as well as utilizing the computer for yet another means to a visual end. The final result is computer art with the look and feel of traditional 'painted' art.
My subjects include the familiar world around us… nature in all it's beauty; the four seasons; people; places; the effects of our involvement upon our world; the animal world; etc. I also accept special orders and paint custom subjects upon request… just contact me!
All limited edition, hand signed prints can be purchased. Please visit us at www.etsy.com/shop/pcao.
__________________________________________
Posted by pdw's atelier on 2010-03-25 12:11:46
Tagged: , art , painting , landscape , artist , digital , graphics , realism , abstract , oils , watercolors , sketch , software , digital pixels , computerized transparent oils , computer tablet paint , palette knife , photo print , limited edition , etsy , Victoria , Australia , picnic , still life , flowers , floral , vista , history , girl , garden , weeds