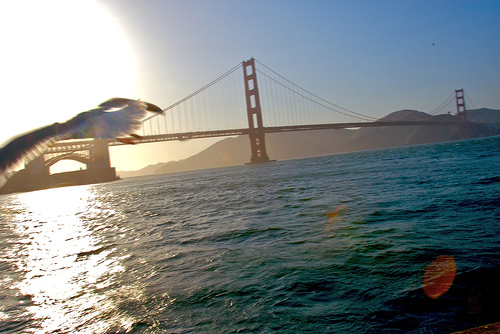 Blogged in The Woodwork: Live Preview
Use for my PHP Advent 2008: PHP without PHP.
Blogged in The Woodwork: PHP without PHP.
Golden flight
San Francisco, California
Nikon D200, Nikkor 18-200mm f/3.5-5.6G VR
Aperture (raw fine tuning, straighten, exposure, levels, highlights & shadows)
1/90sec @ f/22, iso 125, 18mm (27mm)
____________________________________________________
Bicycling a little around my new home town.
Now that I'm actually getting a handle of my new job, I thought it was time to venture outdoors. I hopped on my bicycle and started off in a random direction.
The first thing I did was get my tire caught in the MUNI rail and do a faceplant right in front of everyone at Fisherman's Wharf.
Oh well, let's see how close I can get to Golden Gate Bridge.
My camera isn't in good shape but having the 18-200mm gives you a chance to take shots like this. Sure, it's right into the sun, but at this focal length, I'm glad I caught enough of the detail of the seagull. Besides, Golden Gate bridge is very recognizeable. 🙂
(Yeah, at 18mm, I was right next to the bird. :-))
On the way back, I flatted.
I don't have my computer set up so this is the RAW image with a little futzing around with Aperture. I'll probably replace it later. (At least fix the flare and the dust bunnies)
Click for original photograph (If you cannot view this, add me to your contacts and I'll add you to my friends. If you are already a contact of mine then just jet me a message and I'll fix your status.)
Posted by tychay on 2007-05-14 05:55:36
Tagged: , Nikkor , Nikon D200 , San Francisco , seagull , Golden Gate Bridge , water , bay , flight , 18-200mm f/3.5-5.6G VR , bridge , lens flare