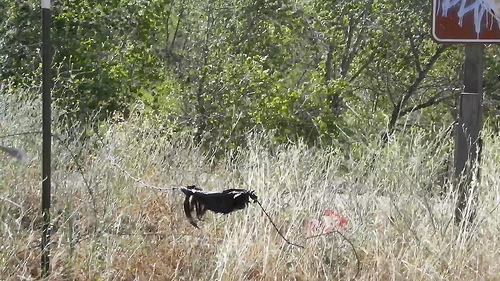 A minor phenomenon? A piece of plastic snagged on a barbed-wire fence acts as a wing to * 'fly by wire'.
Fly-by-wire (FBW): The movements of flight controls are converted to electronic signals transmitted by wires (hence the fly-by-wire term), and flight control computers determine how to move the actuators at each control surface to provide the ordered response.
BTW, the map at right shows the actual location; I didn't pick the name of the place!
Filmed in the very windy San Joaquin Valley of central California. Even though this is an incredibly rich agricultural are whose crops feed the world, without imported water it is a desert; and when it's surface is heated, winds created can cause huge dust storms.
,
Posted by Konabish ~ Greg Bishop on 2013-07-12 19:49:05
Tagged: , San Joaquin Valley , DSCN3909 , Jet, California , near Crow's Landing , Interstate 5 , off the beaten patch , fly by wire , high wind , barbed wire fence , Fenced Friday , and now for something completely different