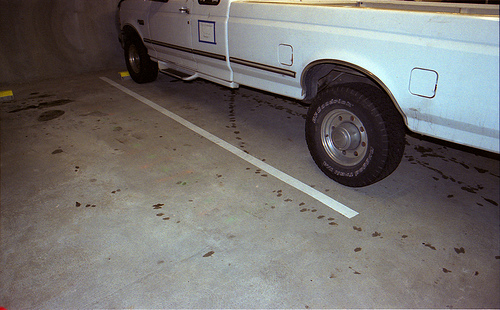 1997 Ford F-250 with a bad fuel leak. Most of the dark spots (all the ones in the curve… and the lines visible behind the back wheel…) are individual Diesel fuel drops. Taken in Berkeley, CA by a Nikon N75 with a Nikkor 28-80 kit lens on Fuji Superia 800. Exposure and focal length unrecorded: camera's on-board flash fired. Negative scanned into computer by an HP G4010, dust removal and gamma correction done in Paint Shop Pro Photo X2.
Be aware that the satellite photo of the geotag on the date when this was posted was at least a year out of date…
This is the photographer's current (when posted…) ride, BTW. On the day this was posted, it was in the shop getting that leak fixed!
Posted by THE Holy Hand Grenade! on 2011-02-23 19:18:35
Tagged: , Ford , F-250 , Nikon 28-80mm , Fujicolor , Superia 800 , geotagged , Berkeley, CA , Nikon N75