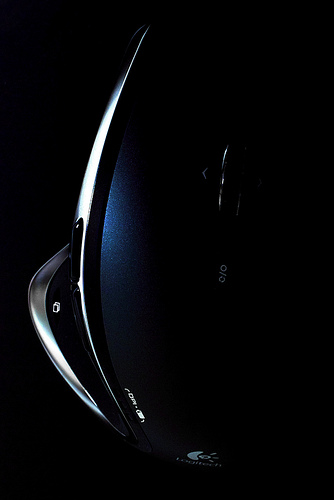 1.28.11 – The importance of a good mouse is key for most digital artists, photographers, and designers. Logitech has served me well since as far back as I can even remember. The last brand before Logitech I honestly remember in my hands was an IBM one that came with the first computer my family ever got. I grew up playing around with commercial computers that had black and green screens and required line commands but this computer was a "personal computer", something all nerds lusted for. This was when color computer screens were considered some huge leap in computer technology. "Imagine the power required to produce all those colors!"
The clunky, large white mouse seemed so amazing at the time. Dust would collect in the tracks in a matter of weeks, making you loose control of your pointer. This then forced you to take the ball out and clean each little roller sensor. The cord would knock things over on your desk at times and you had 2 inputs (1 on a mac).
How far we have come. This mouse is ergonomically shaped to form to the human hand in a comfortable position. It wirelessly sends signals to the computer using a laser sensor that can work on relatively any surface and has 10 inputs. Just think what the future holds for us tech-heads if this kind of progress can be made with something as simple as a mouse in such a short amount of time.
The days of the mouse are numbered though. Touch screens and highly advanced motion sensors will become the new age of computer interfaces. What next? Full integration? Ok, I won't get too carried away. Happy friday everyone.
1.27.11 – I have been wanting to shoot this for a long time now. This giant book was built to allow local graffiti artists to have their way with it. It always reminds me of what in high-school we called "The Rock." It was what I always supposed was originally a giant 4-foot-tall boulder from the mountains. The tradition was to have each class come and paint over the previous lower or upper classes markings. We would have friendly battles back and forth month to month.
Like an old giant tree, this huge blob had hundreds of layers from multiple generations (including my mother). I volunteered as an on-call firefighter for a couple year in high-school and one night we got called out to the station for a fire at the school. Turns out someone had covered in gas and lit the thing on fire. The flames were taller then the people on the scene. No damage was caused, but we always assumed it was a rival football team from the hills. The Rock still stands today with fresh coats of paint from new generations of students.
Follow me on Facebook!
Copyright © 2010 David Flatter. All rights reserved.
Posted by David Flatter on 2011-01-29 03:19:56
Tagged: , Sacramento , CA , logitech , mouse , design , color , bokeh , david , flatter , davidflatter , davidflatter.com , www.davidflatter.com , http://www.davidflatter.com , 365 , project 365 , 365 days , photography , experiment , photo-a-day , challenge , d700 , nikon , nikkor , usa , dailyphoto , performance , MX , performance MX , dark , field , dark field , interface , chrome , DPI , blue , product , technology , journal , entry , inputs , micro-USB , micro , usb , unifying , 24mm , prime , lens , prime lens , image , photo , picture , flickr.com/davidflatter