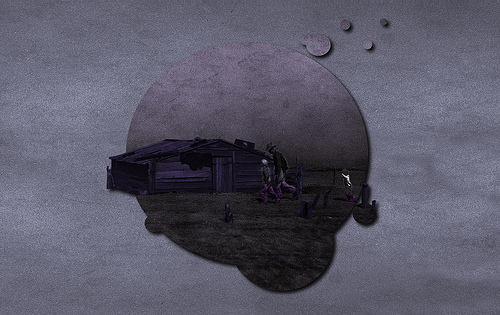 Wallpaper made from several source elements including a Dust Bowl era photograph found in government archives.
–
From my website: www.abcdeology.com/?p=120
Watching a clip from absurdist space western/musical The American Astronaut I thought about alien landscapes and black and white antique photographs, and I was reminded of the amazing pictures taken of the Dust Bowl. The Dust Bowl being when the prairie lands were farmed to death and the skies over the heartland of America turned black, swallowing a whole generation in the dust storms.
Somehow that led to me deciding to muck around in photoshop and make this based on the alienating landscape of the Dust Bowl.
Posted by Thoth, God of Knowledge on 2009-07-02 08:11:51
Tagged: , wallpaper , wall , paper , background , computer background , Dust Bowl , purple , moon , people , children , portrait , FDR , Depression , wind , farming , desert , poverty , poor , father , shack , planet , flag , steampunk , fantasy , sad