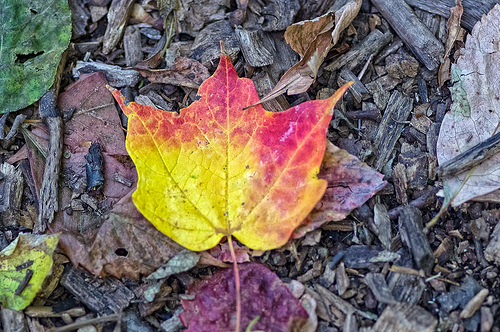 This bright Maple leaf was all alone on the trail. It drew my eye and my legs to a stop.
The brilliant colors of Autumn are there, along with the other colors of the season. Bright red, maroon, orange and yellow, against a trail full of the grays and browns of other leaves and wood chips. There's even some green leaf showing, from leaves dropped too soon.
I had a strong reaction when I pulled the image up on my computer screen. The cycle of life, played out up close. From spring leaf buds to brown leaves in the process of being ground into the earth from whence they sprung.
Ashes to ashes, dust to dust. Enjoy the colors of life while they last.
Posted by MattPenning on 2013-10-30 02:35:38
Tagged: , exif:make=pentax , camera:model=pentax k-5 , exif:model=pentax k-5 , camera:make=pentax , exif:iso_speed=800 , geo:countrys= , exif:focal_length=100 mm , geo:state= , geo:city= , exif:lens=smc pentax-d fa macro 100mm f2.8 wr , exif:aperture=ƒ / 2.8 , Matt Penning , Penning Photography , MattPenning.com , Springfield, Illinois , Pentax , pentaxk5 , K-5 , K-Mount , JustPentax , Pentax SMC Pentax-D FA 100mm F2.8 Macro WR , Fall , Autumn , Autumn Leaves , Maple , Maple Leaf , Leaves , Wood Chips , Orange , Yellow , Red , Green , Brown , Earth , POTD