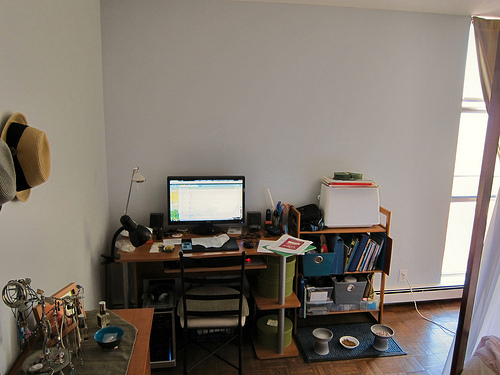 A rather unfavorable shot because of clutter, but although years ago I purchased this cherry veneer desk at Staples for the nice 2′ by 4′ desktop, great for getting crafty, it just hasn't been able to keep up with my needs.
Problems:
* CPU case sucks in air from the front bottom, and thus sucks in cat hair and dust. Also when I built that computer, I didn't put much money into expensive fans, so with the two fans and massive awesome videocard with its own fan, it's pretty noisy when I game.
* I have a drawing tablet now and there's no place to keep it from getting dusty. Also it takes up a lot of the desktop.
*Keyboard tray is not wide enough.
* I'm sitting on a spare dining chair.
* Those shelves built into the desk just aren't very useful.
* No vertical storage.
* Cherry folding shelves are nice but everything just looks cluttered. My desk is in the bedroom, so I need things to look a little less stressful and more serene. I also have a bunch more craft crap under the bed that needs to be hidden.
* My elderly cat has to eat in here so the young cat doesn't eat her prescription food. The doormat situation there is not ideal.
* I don't usually sew, but when I do, I need space. Better space than the dining table. I'll be volunteering at a craft shop event in May and need space to practice sewing, and am planning on doing a t-shirt quilt with a sew-y friend.
* I have no light. Aziz, light!
Posted by Twinkle Yell on 2013-04-18 11:57:48
Tagged: , ikea , desk , crafts , sewing , gaming