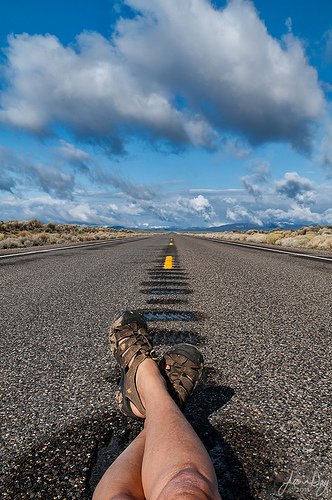 Hwy. 50, Nevada ~ The Loneliest Highway in the US
I've just returned from an incredible trip through the southwest with my good friend and gal pal, Mel. Six days together with an additional three for me for traveling and photography. It was a jam packed adventure filled with good times and great people, as well as just about every weather condition encountered, except for a tornado, thank goodness! I have a few gigabytes to go through, but it's all downloaded and backed up, the truck is unloaded, the laundry is half done, and I've even had time for dinner. I thought I'd post this now, one-because I really needed a new icon, and two-to let you know I'm back and will get to your streams soon. I hope everyone had a great week and a chance to find the good light. Thanks for stopping by!
Here's a brief account of my trip which will be followed in more detail with each post…
Day 1: Valley of Fire State Park, Nevada with David "DBreezy" Thompson and Aaron Matney. Explored the Fire Wave with some killer evening light, then discovered a critter decided to join me in the back of my truck while I slept! No-not dangerous, but not funny until the next morning, either!
Day 2: Sunrise at VoF was a bust, but I had a nice time exploring the Fire Wave Slot Canyon (my name for it) and what a very sweet place. I believe I have quite a few good comps from it. Then off to Page, AZ to meet Mel. We had a good evening out for dinner then went to Horseshoe Bend which also turned out quite nicely.
Day 3: We hit Antelope Canyon in the morning and ran into (almost literally) Stephen and Terry Oachs who were enjoying some personal vacation time. Got some really nice light here. Next we were off to Monument Valley where I finally got a shot I've wanted for almost 30 years! I did end up paying for it (not a biggie), but got much more in return including a new friend. The light was perfect for my shot and later that night we had thunder showers and one big crack of lightning that had both Mel and I jumping.
Day 4: Sunrise in Monument Valley and it did not disappoint. In fact I got something of a UFO in one of my shots, though I'm sure it was just sun flare. 😉 We left in the afternoon and just outside the valley, we stopped on the highway for the typical "Forrest Gump" shot of the Monuments from the middle of the highway (while dodging traffic). Stopped at the Mexican Hat Rock to shoot some cool cloud formations, and then a quick stopover at Goosenecks State Park. Next we hiked to Fallen Roof ruins in Cedar Mesa's Road Canyon. Totally cool place with four more ruins in the area. Lots of hiking up and down slickrock and through a canyon. Next was Natural Bridges National Park to spend the night. It was full so we explored one of the bridges, neither of us being very impressed. We decided to get a hotel in nearby Blanding, UT and were met by a beautiful sunset on the highway, and more rain through the night.
Day 5: Beds and showers felt great, but we left the hotel early in order to get to our next location, House on Fire in Mule Canyon at Cedar Mesa. A fairly easy hike and no problem to find, this turned out to be a great morning. Next, we went to spend the night at Capital Reef National Park. We had time for a little exploring and good thing, because sunset was uneventful, but this place really needs to be hit up in a big way. It was absolutely gorgeous and the campground was lovely and we only saw a small piece of it. A little more rain during the night, but we both faired well.
Day 6: We left Capital Reef in the morning our next stop being Lower Calf Creek Falls in Grand Staircase-Escalante. Gorgeous drive along Hwy. 12 with tons of Aspen trees and snow! We arrived at the Calf Creek BLM campground and trailhead in late morning for a 3 mile hike. That place was a zoo, but it was a fairly easy hike, despite our aches and exhaustion. We actually shared part of the hike with Elliot Porter's great grandson who, his companion attests, has many great talents though none of them being photography. Next stop was Bryce Canyon National Park, in time for the sunset. We found a great campsite at the Sunset campground and proceeded to get snowed on during our sunset shoot with the only really good light happening in one small area around the sun. May have a couple nice silhouettes from that. Temps got down in the 20s that night and a pot of hot coffee was indeed relished in the morning.
Day 7: Sunrise at Bryce was very nice with more beamage than color and still bitter cold. Later, we headed off for a hike down into Bryce Canyon which was very nice, but had these two old gals regretting almost every step back up. We had planned on stopping at either Coral Pink Sand Dunes or the Rim Rock hoodoos, but just getting back to Page, hot showers and a comfy bed were foremost on our minds. After showers and dinner out, I decided to try Horseshoe Bend one more time. Checked on Mel's computer for a different route home then got to bed.
Day 8: Mel and I parted ways, she leaving around 5AM for her trip back to eastern New Mexico, and I got out of town around 8:30. I took a drive for about 15 miles on the Cottonwood Canyon Road, then the old Paria road. Showers were looming so I couldn't spend too much time on these roads without risking getting stuck. In fact, as soon as I got back on Hwy. 89 it started pouring! I made a few more stops along the way for photos going up along Hwy. 14 to Cedar City, UT. I managed to get a bit of a sunset somewhere north of a town called Pioche, NV. I spent the night napping in two spots along Hwy. 50 just east of Ely and driving through a range in white out conditions.
Day 9: Started just west of the town of Eureka where the above photo was taken. In and out of more rain, wind, snow showers, and dust devils through the basin and range of Nevada. It was lovely and green in most places with some early wildflowers here and there. Returned home safely after driving through more snow on Donner Pass. I've never driven Hwy. 50 before and am glad I did, but wouldn't try it in the summer. Go in the spring…you'll love it! Only thing is…there are absolutely no Starbucks or any decent coffee between Cedar City, UT and Fernley, NV! But I'd do it all again in a heartbeat!~ Thanks for taking the time to read all of this. Photos with more in depth stories to come!
Posted by jeandayphotography.com on 2011-04-25 02:21:03
Tagged: , clouds , color , desert , highway , Hwy. 50 , JDay , Jean Day , landscape , Lonliest Highway in the Us , mountains , Nevada , NV , people , road , self portrait , snow , Spring , Spring Break , street , April , 2011