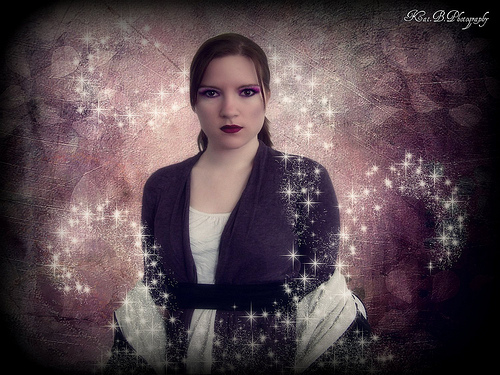 281/365
March 4, 2010
I'm going to confess, this picture is just as much of a surprise to me as it is to you. I literally came out from ethics and had 20 minutes to take pictures and read the pages I was supposed to for my next class (procrastination, gotta love it). I had NO clue what I wanted to do today…so I literally stepped in front of the camera, took three pictures of me just standing there and went on with my day. It wasn't until later that I came up with this idea…which I don't know if I like or not yet.
Just a warning for everyone, my pictures will probably go downhill for the next week or so. I'm going back to Ohio to the SLOWEST computer on the face of the earth. Tomorrow I'll be on a train most of the day but will attempt to get a picture cranked out and edited before I leave…we'll see. If not, expect it the day after…
I really need this break but I can't help but be a little sad. A few months ago Garry and I were talking about seeing one another for spring break…that's obviously not going to happen. It makes me worry about this summer…if I don't get to see him this summer we'll have gone a year + without seeing one another and already we're beginning to slowly slip into some sort of madness-him especially. I sometimes step back and wonder how in the world I have gone this long without scratching my eyes out :S I dunno…
Either way, I plan on sleeping…a LOT. I won't get back to Ohio until 3am then it's another hour drive to the house. I'll be alright though…
Background by eddi_07
Sparkles/stars by =Falln-Stock & ~redheadstock
TRF: My friends and I went to Taco Bell last night which was oh so yummy! Then we went back to Melissa's house and watched Joseph and the Amazing Technicolor Dreamcoat. Basically I like the movie only because I performed in it my Junior year of high school but watching it with 3 hardcore Christians made me really uncomfortable….
Posted by ♥KatB Photography♥ on 2010-03-04 19:40:19
Tagged: , purple , color , colors , sparkles , sparkle , dust , star dust , glitter , magic , magical , change , make up , eyeshadow , lip stick , girl , feminine , texture , selfportrait , portrait , self , of the self , me , woman , female , young adult , project365 , 365 , day281 , 281 , march 4 2010 , 2010 , 3/4/2010