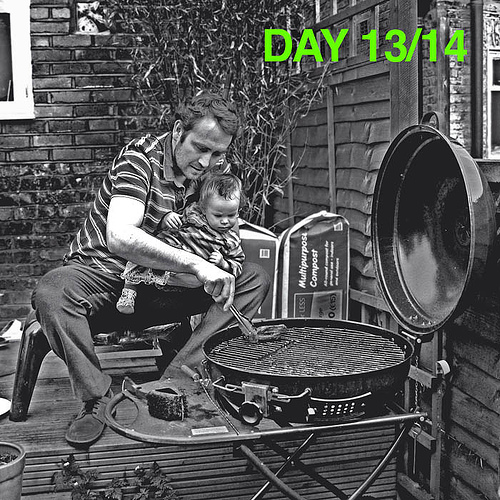 DAY THIRTEEN & FOURTEEN This picture is of myself and Carys BBQing in Martin & Claires garden.
Carys loves playing with my digital radio, she's always enoyed twiddling with the volume control. Today she has discovered that the radio is powered from a small black lead, she repeatedly pulls it out whilst I am listening to the Everton V Manchester United game.
Sarah starts to ask me opinion on housewifery/househusbandry issues, like 'Should I give Carys another banana for dinner?' and 'do you think you should be dusting now or playing on your computer?' It seems my hard work is paying dividends I am starting to be taken more seriously in this new domestic world, previously dominated by Sarah.
Sarah and Carys go to St James' park for the afternoon to meet up with Alex and Laila, two of her old friends from SEES (University) I get some time to myself, so I try and set up my photography site to take credit card payments direct from customers. This goes well and it's surprising how easy it is to do. It's very time consuming, but at least I know what to do now, so far have only set up one page to take payments (www.alphabetclub.com/e2.html), it's in it's early stages, so I'm gonna have to road test it first and make changes later. I also listen to manly football and drink beer from manly cans, this feels nice, a secret journey back to my old life for the afternoon.
Saturday night Carys is very restless, she has adopted a new wail, it sounds like a yodel, quite alarming at first, I deduce that her first molar is coming through and would deserve such a boast of pain, molars are about 4 times the mass of a front tooth (forgotten the word), I don't sleep between midnight and 3.30am, Carys and I watch The Jonathan Ross Show on telly, it's a programme where guests come on and have a banter with Jonathan and then at the end they sell their product (always different forms of popular media, not kettles, towels and jewellery here!) to the viewers, it's a bit like a shopping channel but the embellishments are longer than the product and they call it a 'chat show'. (Would be great if Brad Pitt came on the show and plugged his new eBay shop that specialises in pirated computer games or cuddly toys).
7.20am Carys wakes up and so I watch Match Of The Day with her, it's her favoutite TV show, lucky for me, by 9am I'm fully awake and ready for the Sunday of blurry vision and perspiration ( I always sweat like a feverish horse when I am very tired, my odour is sweeter too.)
9.00am Start my dusting, hoovering and tidying-up chores, proper house-husbandry stuff is this, I learn to dust from the top down, and that the purpose of dusting is to redistribute the dust and hope that most of it goes onto the carpet, which is then hoovered up with a Dyson – or shuld that be 'dysoned up with a hoover'?
12.30pm Sarah, Carys and I go over to Martin and Claires house for a BBQ, I purposely have a miniscule breakfast, to keep stomach space for the piles of meat I am to receive from the God of Meat – Martin. I want to show off my new linen suit from Peckham's poshest shop, but it's too warm, it's only April and summertime is already a month old, so it doesn't look like I'll be able to wear it until the autumn, this year spring only lasted a few weeks, we're beginning to get Canadian style springs and autumns here, but at least we don't get their type of winter, well not yet anyway. I haven't been to a BBQ for 2 years, and that was in darkness, and the food not up-to-scratch, y'know mushy veggie burgers and stale rolls affair, and I hadn't hosted one myself since the World Cup Final of 2002. The food was great, Claire and Martin are 'foodies', we have Merguez sausages, lamb cutlets, pork loins with feta, chipolatas, chicken drummers and spare ribs, all marinated in special sauces too. I just eat and eat, it's brilliant, one quarter of the guests don't turn up so it's more grub for me, I show up with two bottles of top red plonk and I seem to be the only one of two people drinking it, even better! As soon as as the first platter of meat comes off the BBQ, Carys and the other two babies are up on their hind legs waving their noses and arfing at it like seals at an Ethiopian sea-life park. Of course when the meats are eventually offered to Carys she tries it then violently dismisses it like it's not cooked to her high standards.
We leave at 5.30pm, a successful eating and drinking adventure over. Martin and Claire are selling up and moving to central Kent far-commuter belt, they're trading their three bedroom terrace for a barn with out-buildings and three acres! Amazing what difference a simple location change can make, but poor Martin will have to commute 85 minutes (door to door) each way five days a week, a lot of people sacrifice their week and seem to just live for the weekends in the far suburbs. It's a big sacrifice, one that I'm not ready to make yet, or hopefully never will. I know a fellow who commutes about 90 minutes (door to door) from Sussex to Soho every day, and has been so for seven years. He said he's sick of having to do it, of having to read meaningless books, of having to squat in the doorway of the train, as there's no seats available, of having to spend three thousand pounds a year on train fares, of having to live that far out to afford a decent sized house in a crime-free (so called) area, and yes he is now physically sick too, he's had a mystery bug for about a year now, perhaps he's terminally ill with Commuteritis? So that's what the Daily Mail has done for us, twenty years of baiting us with fearful headlines of bad schools, hoodies, muggings, big gardens, parking tickets and expensive this and that, it's driven their own London Evening Standard (owned by the Daily Mail) readers into ever further away suburbs, where they don't even sell the London Evening Standard, and now they have to buy the damn Daily Mail, which will drive them even further away with their doom mongering to places where it's 2 hours commute away. And the telly is just as bad… ( I could rant on, (perhaps next week)
So it's home to bed and then Carys starts up her yodelling about 9pm, oh well fatherhood, fatherhood, fatherhood…
Posted by steffanmacmillan on 2007-04-30 09:21:46
Tagged: , London , East , Dulwich , BBQ , barbecue , father , daughter , baby , fatherhood , England , UK , Britain , british , meat , red-meat , eating , greed , greedy , Welsh , fence , BW , black and white , inner city suburb , house , decking , stripes , boozing , grill , tongs , Multipurpose Compost