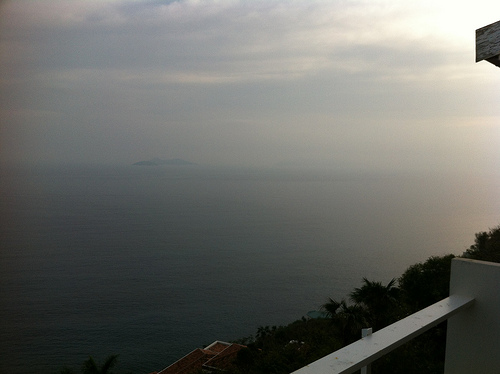 Not sure what all the haze is about. It settled in yesterday and hasn't left. We can't see Jost at all, and can barely see Hans Lollick. I guess I'll have to ask around today to see if anyone knows what's causing it. Saharan dust? Montserrat? Hmmmm
Still resting after a busy Rolex Regatta weekend. My cold is still hanging around adding to the madness. Most of my office is away at Sungard Summit and we're supposed to go live with a huge project this weekend. This is not going to be a fun week.
But on a better note, I took some really cool GoPro video and stills at the Rolex. Now I just need a better computer to edit the video and put it all together. Ours is slowly dying so I think it's time for a new one. I'll try to get some of the unedited clips to YouTube in the meantime. It took much better shots outside of the housing. I think I've scratched the lens on the housing so jay is going to order a new one and it tends to fog up inside the case once it's been out in the sun for awhile. But it still did an awesome job.
Posted by captainjay on 2012-03-27 12:06:35
Tagged: