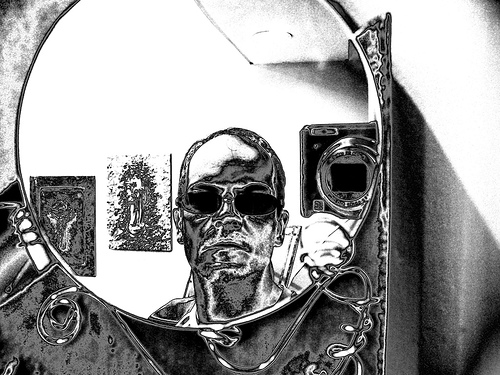 I was looking the artworks in a gallery, inside a shopping center, when I nottice that the artist left a sideview mirror (vintage style) on the right top of his mixed paint/sculpture.
Back at home, I was examining the pictures on computer and some of them makes me think about Man Ray's photos:
surrealists.classifieds4u.co.uk/Ray/raygallery.php
So, I start to make some changes in the pictures. But, in the end (there always one "however"), I think that the results have more resemblance with Silver Surfer Comics:
www.silver-surfer.us/index.html
lol
Ah, yes! No caps, as promissed.
Posted by Black Dust a.k.a. odonbd on 2006-12-04 12:39:56
Tagged: , Mirror-blogging , Self-blogging , Self-portrait , b&w