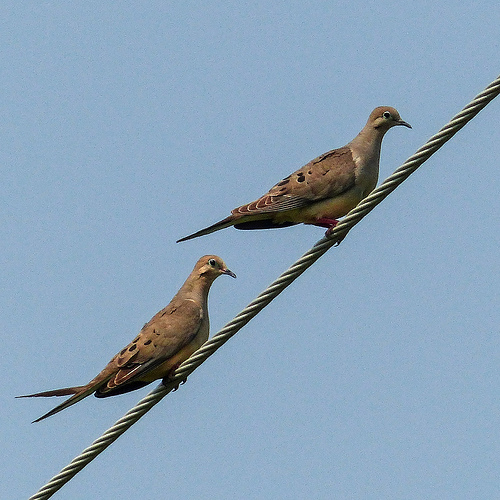 There was a family of several of these beautiful Mourning Doves the other day, 16 July 2014, along one of the gravel roads just within the SW city limits. I've never yet seen one perched on a fence post, but always way up on a high wire. Not as sharp as I would have liked.
"A graceful, slender-tailed, small-headed dove that's common across the continent. Mourning Doves perch on telephone wires and forage for seeds on the ground; their flight is fast and bullet straight. Their soft, drawn-out calls sound like laments. When taking off, their wings make a sharp whistling or whinnying. Mourning Doves are the most frequently hunted species in North America.
The Mourning Dove is the most widespread and abundant game bird in North America. Every year hunters harvest more than 20 million, but the Mourning Dove remains one of our most abundant birds with a U.S. population estimated at 350 million. The oldest known Mourning Dove was 31 years 4 months old." From AllABoutBirds.
www.allaboutbirds.org/guide/mourning_dove/lifehistory
Temperatures got up to around 32C or 33C three days ago. My desk thermometer said it was 32C in my computer room, so I knew I just had to get out for a while, to enjoy the air-conditioning in my car. The backroads SW of the city come in handy when I don't want to spend too much time on a drive, and I can usually find something of interest to photograph. Didn't see a whole lot this time, though I did see a Swainson's Hawk perched on a high power pole and the gorgeous Wilson's Snipe that I posted the day before yesterday. Think the Hawk must have been the same one that I have photographed before. It was just so laid back, letting me walk past it along the gravel road, so that I wasn't looking into the sun. Now if only it would perch on a fence post instead : )
Today, the sun is shining, but there are some grey clouds up there. I predict rain – the reason is that yesterday, I washed my car for the first time in several months, and after I've done this, it almost always rains (or snows). My arms and shoulders have been just too painful to do this before, but I managed OK yesterday. I have two long drives coming up in the next little while (both of which I've never done before – yikes!), so I wanted to get rid of the awful build-up of dried mud and gravel dust. Driving the gravel backroads, which I love to do, means that I rarely have a clean car 🙂
Posted by annkelliott on 2014-07-19 16:29:47
Tagged: , Calgary , Alberta , Canada , rural SW backroad , within city limits , nature , ornithology , avian , bird , birds , two , Mourning Dove , Zenaida macroura , Columbidae , Turtle Dove , American Mourning Dove , Rain Dove , common , perched , wire , side view , Explore , explore2014July19 , dropped before Scouted , screen shot taken , annkelliott , Anne Elliott , FZ200 , Lumix