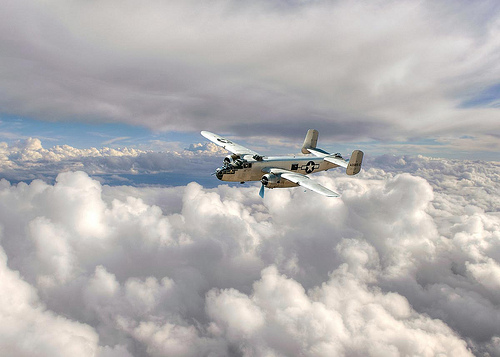 I found a stack of 4X5 Kodachromes in my uncle's WW II stuff. It took a lot of speck and dust removal and some considerable color correction to nurse this transparency back to life. There are a bunch of others and I can't wait to get them scanned. See. This is what I am setting up the "southern computer center" in the garage to do. Scan in boxes and boxes of old pictures.
Now for the truth.
This is a picture of a B25 flying left-to-right at the Chino Air Show last year put onto an image of clouds over Phoenix taken on my trip from St. Louis to LAX a couple of weeks ago. I "flipped" the B25, rotated it and placed it strategically.
You just can't believe anything anymore. Yes, the light angle is wrong. I'll do it again but this time I will make it a "flight" of B-25s with P-38 Lightning escorts.
More at the blog: www.tagchips.com/photoblog/
Posted by d_butch on 2011-04-25 01:26:58
Tagged: , B-25 , PhotoShop