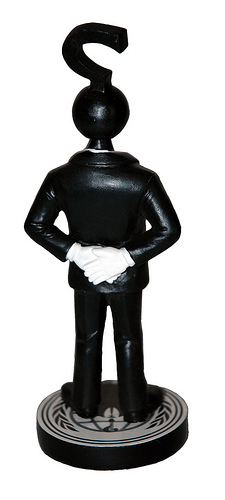 Anonymous Collector Bobblehead Figurine
Limited Edition
www.thebobblehead.com
This high-quality bobblehead figurine depicts the logo of the hacktivist group Anonymous. The logo is a body of a person with a white shirt, black suit, and a question mark for a head with his/her hands behind their back. Each bobblehead is hand painted. Designed by Rick Lynn of The Bobblehead LLC.
The circular base is black with the character standing the Anonymous logo. On it's front is ANONYMOUS in white lettering.
The Box is representative of anonymity and is a plain white box
Specifications:
Figurine
Construction:cultured marble (a highly durable mix of polyester resin and marble stone dust).
Paints:Acrylic
Height:7"
Base Diameter:2 9/16"
Weight:6.7 ounces
Boxed:
Construction:Full-color printed chipboard with custom Styrofoam insert.
Height:8 5/16"
Depth and Width:3 7/8 x 3 15/16"
Weight:8.4 ounces
Anonymous is a loosely associated hacktivist group. It originated in 2003 on the imageboard 4chan, representing the concept of many online and offline community users simultaneously existing as an anarchic, digitized global brain. It is also generally considered to be a blanket term for members of certain Internet subcultures, a way to refer to the actions of people in an environment where their actual identities are not known. It strongly opposes Internet censorship and surveillance, and has hacked various government websites. It has also targeted major security corporations. It also opposes Scientology, government corruption and homophobia. Its members can be distinguished in public by the wearing of stylized Guy Fawkes masks.
This is a great addition to any bobblehead collection. If you're looking for a unique bobblehead, this is the one to own.
A great gift for any bobblehead fan or collector!
Also perfect as a party favor, guest amenity, event souvenir, reunion gift, and hospitality gift.
– Made of polyresin
– Comes in white box.
Posted by TheBobblehead14403 on 2013-02-28 18:31:35
Tagged: , Anonymous , Computer , Hacker , Anarchist , Technology , Novelty , Collectible , Bobblehead , Doll , Gift , Educational , Conversation Piece , Rare , Toy , Cold Cast Marble , Hand Painted , Acrylic Paints , Custom , Color Box , Chrome Steel Spring , Poly Resin , 7 , Activists , Hacktivists , Internet , Bobble , head , Nodder , Figurine , Cultured , Marble , Polyester , resin , Cold , Cast , Hand , Painted , Sculpted , Acrylic , Paints , Color , Box , Chrome , Steel , Spring , Collectors , Collector , Giveaway , Party , favor , Guest , amenity , Event , souvenir , Reunion , Hospitality , In , New , Rick , Lynn , Richard , The , LLC , Bobblehead.com , International , Shipping , Clay , Free