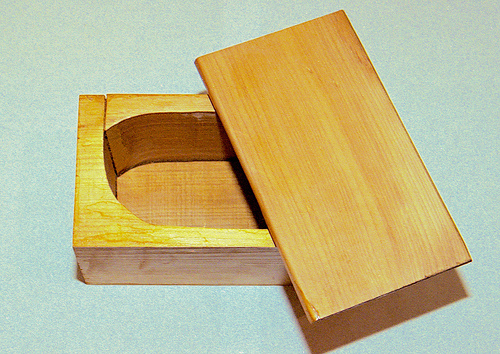 Small box made from a 4×4, made by the photographer. (He's a better photographer than woodworker…) Taken in Albany, CA by a Nikon N75 with a Nikkor 28-80 kit lens on Fuji Superia 800. Exposure unrecorded: Nikon Speedlight SB-50DX used. Negative scanned into computer by an HP G4010, dust removal and gamma correction done in Paint Shop Pro Photo X2.
Method: Rip about ¼ inch of material off opposite sides of the 4×4, keeping off-cuts – these will be your top and bottom. (and keep track of which one is which!) Cut out center of box with a band saw, keeping off-cut. Glue bottom of box onto center. Rip ¼ inch off the top of the center off-cut, glue to top, making sure that top is centered both ways on box. I make the center slightly excentric so the top will only fit one way. Finish with one coat of orange shellac.
Done correctly, these make good "stash boxes": they'll look like a solid 4×4!
Posted by THE Holy Hand Grenade! on 2011-02-20 19:02:48
Tagged: , box , woodworking , Nikon 28-80mm , Fuji , Superia 800 , Speedlight SB-50DX , Albany, CA , Nikon N75