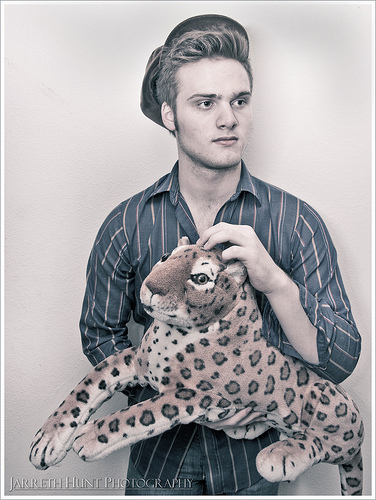 today after work I came home and watched a few episodes of Fullmetal Alchemist before I got ready for make out tonight. after I was ready to go I took my photo of the day. I just had Kaleb pick out a few props and this is what he chose haha I tried to make it look kinda old timey.
after I had this up I went downtown for make out and set up my stuff. tonight Johan (the dj) told everyone to tip me so I did a little better in tips. he said he would say it more next week 😀
tonight was rocky horrow picture show themed so that was fun :3 but by 12am I was ready to be done. but this thing goes until 1:30am so I still had a while.
once I got home I put the photos on my computer and watched some Fullmetal while I waited. then I went to bed!
fact of the day:
Most dust particles in your house come from dead skin.
NEWEST BRUTAL BROTHERS VIDEO:
Annoying Game of Rock, Paper, Scissors.
taken 10-12-10
uploaded 10-12-10
check out my brothers and I's youtube channel!
Brutal Brothers Films
TWITTER: @JarrethHunt
DAILYBOOTH @JarrethHunt <—- I upload photos here too!
COMMENT 😀
Posted by Jarreth Hunt Photography on 2010-10-13 00:44:48
Tagged: , beautiful , amazing , fish , eye , fisheye , canon , great , awesome , fantastic , super , best , bestest , gorgous , shot , photo , sureal , crazy , angle , jarreth , hunt , photography , jarreth hunt photography , pretty , live , band , flowers , color , colour , vivid , intense , Distillery , hands , big , blue , red , green , black , white , yellow , orange , pink , purple , fancy , Outdoors , Rebel , XTi , Glorious , 365 , tattoo , The New Photo Distillery , friends , RAW , photoshop