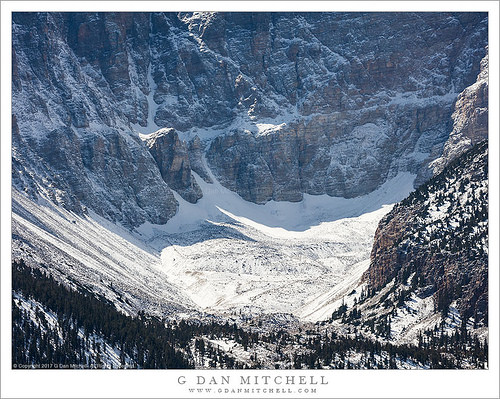 Wheeler Glacier and Cirque Headwall. Great Basin National Park, Nevada. September 26, 2017. © Copyright 2017 G Dan Mitchell – all rights reserved.
Wheeler Glacier and the cirque headwall below Wheeler Peak, Great Basin National Park
On my recent first-time visit to Nevada's Great Basin National Park I experienced the challenges and rewards of photographing a brand new (to me!) location. As I have previously noted, I usually avoid doing too much research about a new destination ahead of time, at least beyond what is necessary to successfully get there and back and locate places to stay and eat, along with the most basic known features of the place. (For anyone who hasn't heard the message already, I'm trying to retain the potential for discovery in new places and to make it more likely that I will form my own orientation to them.) So, what I actually knew about this park in advance of my visit was somewhat limited: it is formed around the Snake Mountains, it is famous for its caves, Wheeler Peak is the second highest point in Nevada, there might be fall color at this time of year, that much of the park is not easily accessible… and there is a glacier!
From this and a few of my other photographs of the high areas of the park you might get the impression that it is largely and alpine place. It isn't. In fact, the spots that do have that feeling are a small portion of the park and at least partially notable for being exceptions. Yet, once you arrive at such places they become your entire world. (Well, almost your entire world, since views of the surrounding "basin" terrain are rarely far away.) This glacial cirque cuts into the highest ridge, separating the two tallest summits in the park. The view straight into this glacial valley is, indeed, impressively alpine. (As I write this I have a photograph of a Pacific Northwest glacier scene from Mount Shuksan open on my computer, and it shares remarkable parallels with this photograph.) On this visit the effect was enhances by a recent dusting of early autumn snowfall that coats the mountains and the top of the huge rock glacier at the lower edge of the much smaller ice glacier.
G Dan Mitchell is a California photographer and visual opportunist. His book, "California's Fall Color: A Photographer's Guide to Autumn in the Sierra" is available from Heyday Books and Amazon.
Blog | About | Flickr | Twitter | Facebook | Google+ | LinkedIn | Email
All media © Copyright G Dan Mitchell and others as indicated. Any use requires advance permission from G Dan Mitchell.
Posted by G Dan Mitchell on 2017-10-01 18:25:31
Tagged: , wheeler , peak , glacier , headwall , curque , basin , rocky , mountains , cliff , great basin , national , park , nevada , landscape , nature