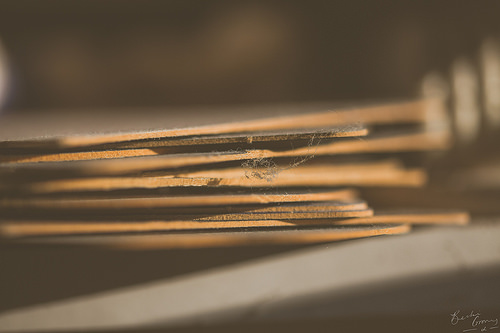 206/365
Dad's office: it has been my favourite room since we moved here 15 years and 359 days ago. Well, maybe not quite since then, but since around the point that Dad started working from home.
When I was 4 it was my favourite room because it was where I could find Daddy after a bad day of school, whistling away to himself (I even wrote him a note telling him to not 'wisool' that is still tacked up on the pinboard).
When I was 6 it was my favourite room because it was where the computers were.
When I was 10 it was my favourite room because of the oxymoron that came with it being so cluttered and yet everything had its place.
When I was 13 it was my favourite room because it was quiet, other than the starlings nesting in the roof, and thus I could get on with school work in peace. It also offered a distraction in the floor to ceiling bookshelves.
Now it is a storage room, boxes and folders piled up high – but that is exactly why I like it. Everywhere you look, there is something new to see: bottles of fruit-infused vodka and model trains and photos of me and my brother from when we were children.
I love that the rainbow clock that tells the wrong time breaks the silence with its obnoxiously loud ticking and I love that my back is pressed against the door as I take up the only floor space whilst I sit and write this and I love that it is in just the right place, and the dust has built up on the window just enough so that it gives the best light in the house.
Posted by BeckiGroves on 2017-07-25 19:53:51
Tagged: , 365: the 2017 edition , 365:2017 , Day 206/365 , 25-Jul-17