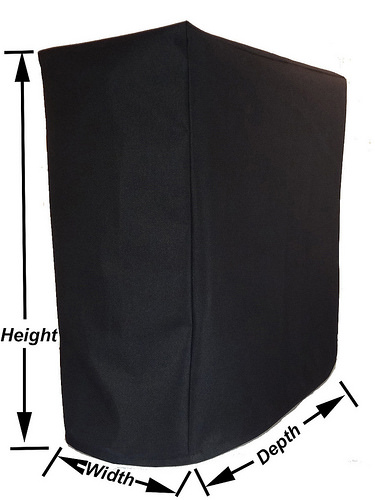 Dust is a Computer CPU's worst nightmare! Our premium quality 16.5"H Computer CPU / Tower Dust Cover will protect your computer from cat hair, dog hair, dust and other kinds of nuisances that can shorten the lifespan of your electronic device.
All of our dust covers are custom made for YOUR specific computer. That's right!! We don't make "One-Size Fits All"computer case dust covers.
This listing is for a mid-tower computer case dust cover that measures 16.5" high. Look at the picture and measure the width, and depth of your computer case. Then select from the drop down list, the width and depth that match your computer.
If your computer tower is not 16.5" in height, please take a look at our other listings. We have multiple sizes to choose from. If you don't see a matching listing, message us and we'll get you set up.
We buy material that is not manufactured overseas. Our customers have told us they don't want the cheap nylon material or plastic type materials found in many computer case dust covers on the market. Just like you they want something that looks professional, feels soft and does the job. In other-wards they want us to produce a higher class dust cover that meets their needs.
Some features of our 16.5"H Computer Tower Case dust covers are:
* Premium Twill Serge Fabric – Made with a two-up and two-down weave.
* Easy to slip over your computer CPU.
* Our covers are custom designed, according to YOUR measurements!
* Easy to Clean – Machine washable and safe for the dryer.
* FREE SHIPPING in the United States is included.
www.dustcoversforyou.com
(619) 273-3499
Posted by DustCoversForYou on 2017-01-17 06:20:39
Tagged: , 16.5H , Computer , Tower , Case , Dust , Covers 16.5H Computer CPU Case Dust Covers , Mid-Tower , CPU , Covers 16.5H Computer Mid-Tower Case Dust Covers , Covers , Mid , Cover