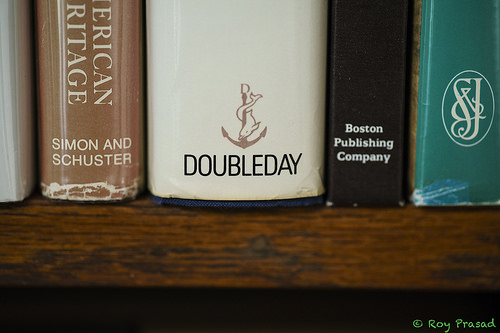 Test shot with Sony A7RM2 + Voigtlander 125mm f/2.5 APO Macro Lanthar, shot at f/2.5.
The DOUBLED letters are 5mm high on the book. Below is an actual pixels crop. On my Macbook Pro, the letters appear about 33mm high, so a 6.6x magnification. They look razor sharp at and very clean at ISO 4000.
This was a hand-held shot from a close range of about 0.5m from the book. The DoF is less than 2mm. The dust jacket on the book has a play of over 2mm over the spine of the book, and that is enough to put the lettering on the adjacent black book out of focus.
Best seen on a retina display. To see the image at its best, please download it at the highest available resolution and see it on your computer.
Posted by Roy Prasad on 2015-09-02 17:19:33
Tagged: , Green , Sony , A7RM2 , ILCE-7RM2 , A7Rii , Prasad , RoyPrasad , Voigtlander , APO , Macro , Lanthar , 125mm , book , shelf