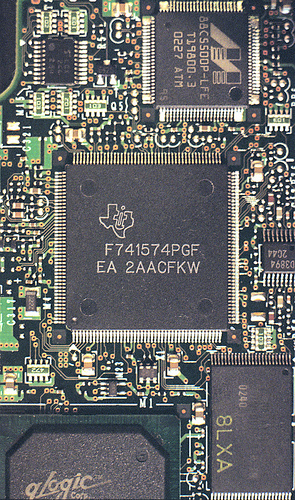 Texas Instruments chip found on a Fujitsu 73 Gb SCSI hard drive formerly on my computer. Taken by a NIkon N75 with a Micro-Nikkor 55mm ƒ3.5 AI lens (with the M2 extension tube) on Fuji Superia 800. Exposure 1/60th sec at ƒ4 or 5.6. Negative scanned into computer by an HP G4010, dust removal and gamma correction done in Paint Shop Pro Photo X2.
Chip package is about 25mm (1 inch) on a side: this shot is about 1:1.5 on the film plane…
After about two years of service, the drive (bought used) failed – unknown if this chip was the reason..
Posted by THE Holy Hand Grenade! on 2011-02-16 20:27:43
Tagged: , Fujitsu , Fuji , Superia 800 , macro , Micro-Nikkor 55mm ƒ3.5 AI , hard drive , Nikon N75